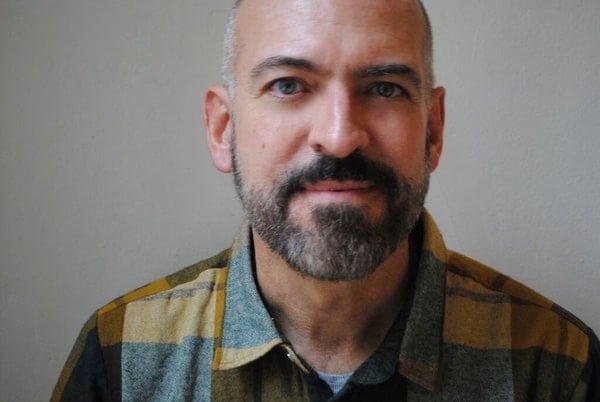 This week's TowleREAD selection comes from Paul Lisicky's new memoir The Narrow Door, which intertwines two long-term relationships – a best friend, and an ex-husband, and paints them against his own identity by, as the NYT notes, "surfing back and forth in time, with memories heaving to the surface and then sinking again into the murk."
Lisicky spoke with Towleroad about the excerpt he chose to read for us, which takes place in a bathhouse in the summer of 2009 in Philadelphia, deserted on a Friday evening when the men who would usually be there are off for the weekend at summer resort towns.
Said Lisicky:
The Narrow Door is a memoir about my late best friend, the novelist Denise Gess, but it's about other things too: the end of my relationship with my husband, the natural world out of whack, Joni Mitchell, sex, Van Gogh, artistic ambition and failure. It's all in there, a big mosaic that's attempting to think through a question: who are you when you've lost your sidekicks, the people dearest to you?
In the passage in question, I'd just wandered away from the hospice after a sweet but exhausting day-long vigil. Everyone had left by that point in the night, with the exception of her mother and two siblings. I probably didn't know how much I was hurting, but I did know I had an awful need to be touched—or to touch someone. If only to feel what it was like to be in a body again. In some intuitive way it felt like that need was a way to connect with Denise, who was so much of her body, so much in it. She would have understood.
Listen:
[soundcloud url="https://api.soundcloud.com/tracks/245150988?secret_token=s-KC8Jf" params="auto_play=false&hide_related=false&show_comments=true&show_user=true&show_reposts=false&visual=true" width="100%" height="450″ iframe="true" /]
You can pick up a copy of The Narrow Door here.
Lisicky is the author of four books, including Famous Builder, Lawnboy, Unbuilt Projects, and The Burning House. He has received fellowships from the NEA and the Michener/Copernicus Society, and has twice been a fellow at the Fine Arts Work Center in Provincetown. He teaches in the MFA program at Rutgers University-Camden.