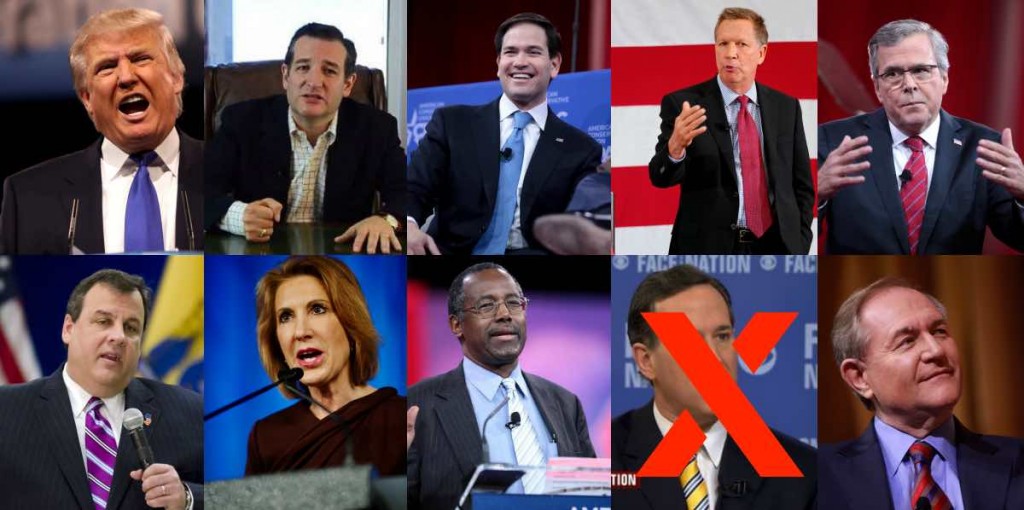 With the first die finally cast in the 2016 election, the Republican field has winnowed significantly. As we leave Iowa behind and head towards New Hampshire, the stakes are getting higher for GOP presidential hopefuls in the most overcrowded primary in recent memory. While an astounding 17 candidates threw their hats in the ring this cycle, only 10 remain. Expect that number to drop again after next Tuesday. Below, we take a look at who's still in the running and what their prospects are going into the first primary vote of 2016.
WHO's IN
Donald Trump: According to a summary of the latest polls from Real Clear Politics, Trump holds a commanding lead over the Republican pack in New Hampshire with an average of 33.4% support among Republicans. That gives him a 21.2% advantage over his closest competitor, Ted Cruz. The latest New Hampshire poll, from UMass/7News, did extend through the Iowa caucuses but it also started before the caucuses were underway. In other words, we still don't have fresh polling data that began sampling voters post-Iowa. That means it's unclear what impact, if any, the results from Iowa will have on voters in New Hampshire.
Ted Cruz: Ted Cruz is gunning to gain ground in New Hampshire after his Iowa victory. The Real Clear average of polls has him at 12.2% right now. That number could climb if Cruz gets an Iowa bounce. Expect him to stay in for the long haul given the sizable war-chest he's amassed.
Marco Rubio: Rubio declared victory in Iowa, finishing third, a mere 1% behind Donald Trump. He's since sought to characterize the GOP primary as a three-man race between him, Cruz and Trump. Rubio is painting himself as the establishment candidate without actually using the dreaded "E" word. He has 10.8% support in New Hampshire according to Real Clear Politics. He's certainly hoping for a bump out of Iowa. But…
John Kasich: Ohio Governor John Kasich is nipping at Rubio's heels. With 10.4% support according to the poll of polls, Kasich has been selling his pitch hard in New Hampshire and has gained traction where elsewhere he has struggled to carve out a niche. Many pundits see him as the dark horse candidate that could deliver an upset in The Granite State.
Jeb!: Yep, Jeb! is still running for president. And New Hampshire seems to be do or die for the man who hopes to be the third Bush to take up residence at 1600 Pennsylvania. Jeb has seen his impressive fundraising deliver meager returns, having spent 18 times what Cruz spent in Iowa to rake in an abysmal 2.8% of the vote.
Chris Christie: Christie rounds out the candidates hoping to occupy the establishment lane in the GOP race. He's had fighting words for Marco Rubio ever since Iowa, referring to him as "the boy in the bubble." Like Kasich and Jeb, Christie has invested a great amount of time, energy and money in New Hampshire. It's hard to see a path forward for him without a strong showing here. Real Clear Politics has him at 6.2% in their poll of polls.
Carly Fiorina: Believe it or not, Carly is still in the race–and ahead of Ben Carson in New Hampshire! Fiorina has thus far failed to turn her strong debate performances into more substantial support, first rising in the polls only to fall back down again. She's currently at 3.6% in New Hampshire.
Ben Carson: Carson seems less concerned with upping his poll numbers (currently languishing at 3.2% in New Hampshire) than with getting a freshly-pressed suit. He traveled to Florida to get "fresh clothes" after his poor showing in Iowa (he came in fourth) rather than jetting to New England like his rivals.
Rick Santorum: Rick Santorum is, unbelievably, still in the running. But just barely. Though he won the Iowa caucuses in 2012, this time he came in second-to-last (ahead of only Jim Gilmore, who had 0%). The music has begun to play for Santorum and the teleprompter says, "Wrap up."
UPDATE: Santorum will announce Wednesday that he is suspending his campaign for the presidency. 
Jim Gilmore: File under "joke candidacy." Gilmore got 0.0% in Iowa yet declared victory. He had 12 people vote for him.
WHO's OUT
Scott Walker, Rick Perry, Bobby Jindal, George Pataki, Lindsey Graham, Mike Huckabee, and Rand Paul.
[Polling data via Real Clear Politics]