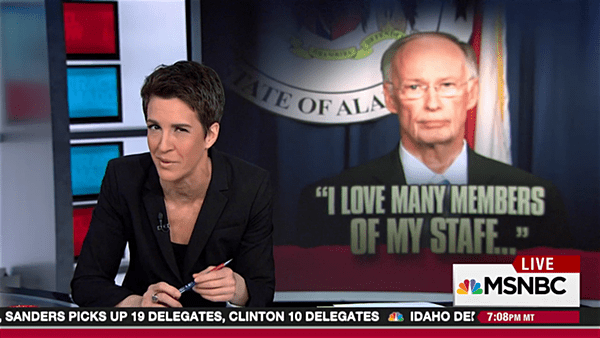 On Wednesday night, Rachel Maddow dug into the unfolding sex scandal centered on Alabama Governor Robert Bentley.
As we reported earlier, a "sexy phone call" between Bentley and one of his top aides was released this week in which Bentley makes sexually explicit comments to the aide that insinuate the two have been involved in an extramarital affair. While Bentley has apologized to the people of Alabama, he would not say what he was apologizing for. What's more, he has refused to admit that he had an affair with the aide, Rebekah Mason.
As Maddow pointed out on her show, Bentley's affair, which has seemingly led to the end of his decades-long marriage, is not merely a private matter. And that's because Bentley has made a name for himself as a "family values" politician who has denounced gay marriage.
Said Maddow,
This isn't just a personal story. Governor Bentley ran for this office that he holds on the grounds that he was a family values candidate—a God fearing family man—whose campaign ads featured him talking about the Bible while posing with his wife and all of his grandkids. he ran as a man who so believes in the sanctity of traditional marriage that he would fight same-sex marriage with every fiber of his being. His administration filed a Supreme Court brief that said marriages between same-sex couples should not even be thought of as marriages, they should be seen as social experiments.
Nobody's love life is a political matter. Unless you as a politician make your love life and your personal life a political matter. And Robert Bentley, the Governor of Alabama, has done that. He has been a crusading family values politician who has campaigned on the superior morality of his own marriage, his own family and his own family values, and how he's going to save Alabama from other people's terrible, immoral family choices because his values and his family are superior.
Watch Maddow explain Bentley's sex scandal and expose his political hypocrisy, below.