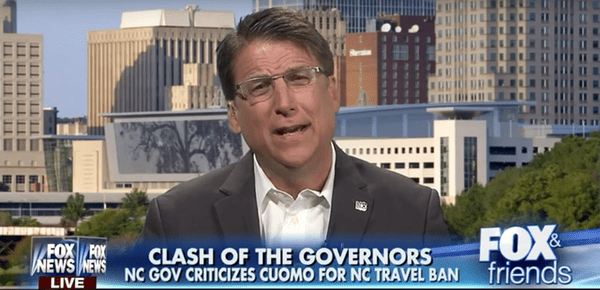 North Carolina Governor Pat McCrory has blasted New York Governor Andrew Cuomo for banning all official state travel to the Tar Heel state over the newly enacted anti-LGBT law, HB 2.
On Fox & Friends, McCrory lamented the negative reaction his state has received for banning all local LGBT rights ordinances, saying, "It's amazing that the nationally political correct police have descended upon my state and unfairly smeared my state."
Mc Crory also complained that North Carolina is being treated unfairly because Houston didn't receive as strong of a backlash for striking down the Houston Equal Rights Ordinance (HERO).
Voters in the Final Four host city of Houston, McCrory remarked during an interview on "Fox & Friends," last November overwhelmingly rejected Proposition 1, known as the Equal Rights Ordinance, which would have allowed transgender people to use the bathroom of their preference and would have punished noncompliant businesses with fines up to $5,000.
"And there are no protests for boycotts of Houston, Texas, during the Final Four basketball tournament. Nor should there be," McCrory said. "So none of these corporations that are now criticizing North Carolina, they're all going to be advertising during the NCAA championship, and there's a lot of corporate and political and media elite hypocrisy about this. It's really sad."
As for Cuomo banning all official state travel to North Carolina, McCrory said, "It's demagoguery at its worst. Is this the type of democracy we're gonna have where you go to Cuba and then you tell citizens not to come to North Carolina?"
He went on:
"First of all, a lot of New Yorkers already moved to North Carolina" and have made the state "their permanent home. I'm sorry, Gov. Cuomo, but that's a fact," McCrory said, to which co-host Brian Kilmeade, a native New Yorker, agreed. "Maybe it's because we believe in just common-sense privacy laws, and, by the way, we also are against any types of discrimination, but that doesn't mean we overturn basic common-sense expectations of privacy that men and women and children expect when they go to a locker room or a restroom or a shower facility. This is ridiculous."
He added, "We're not in favor of discrimination, but we do favor common-sense privacy laws just like the city of Houston does.
Watch the video, below: