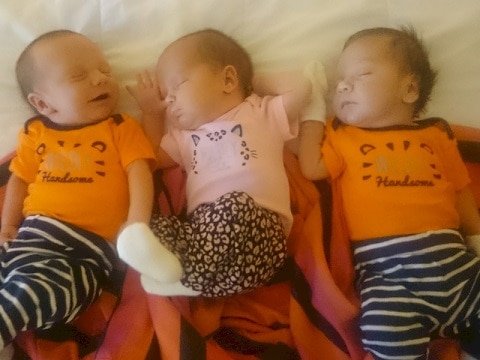 A gay couple are said to be stranded in Mexico with their three surrogate children after their adoption agency "went into hiding."
David Beard and Nicky Leonard Beard claim they were scammed by the Cancun-based agency after flying in from New Zealand to meet their newborn girl and two boys.
According to The Journal, the babies were born to two surrogates earlier this month in an arrangement with an Argentinian egg donor. Although Mexico recently banned foreign and gay couples from having children through surrogacy, the Beards say they were told they would be allowed to bring their children home as the mothers were already pregnant.
According to a family friend, the Beards are now stranded in Mexico following the closure of the adoption agency because they were forced to pay all birthing fees and aftercare again. One of the children had to be rushed to another hospital and put on a respirator. The clinic where the child was delivered would not allow the ambulance to leave until the Beards paid more money. Care costs for the sick child came to around $80,000. The couple are aiming to raise enough money to cover their unexpected extra costs with a crowd funding appeal.
David beard said that despite the many problems, "this story does have an exceptionally happy ending – we are the proud fathers of three beautiful babies, Lachlan, Blake and Kelly."
(Image via Givealittle)