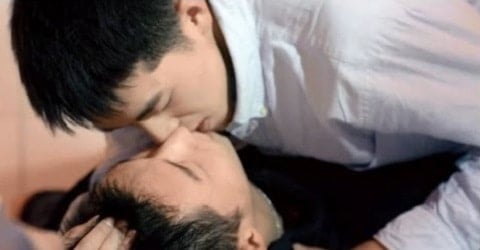 China has banned all programming depicting gay couples after the removal of gay high school drama Addicted from streaming services. It is believed that censors took issue with "abnormal sexual behavior" and "romance between minors" on the show.
The China Television Drama Production Industry Association and the China Alliance of Radio, Film and Television has introduced guidelines banning "abnormal sexual relationships and sexual behavior".
Also prohibited are incest, sexual assault, extramarital affairs, "witchcraft practices and feudal superstition", "grotesque criminal cases" and any programming having "adverse effects on minors" including smoking, drinking and fighting.
https://twitter.com/Furukaw85271231/status/703448172614578176
Last November, we reported that a Chinese woman took the government to court over textbooks describing homosexuality as a "psychological disorder."
Watch episode one of Addicted (with subtitles) plus some of the offending gay kiss scenes below.
https://www.youtube.com/watch?v=fkMVtBVoXzE
https://www.youtube.com/watch?v=-xCkjX_nTw8