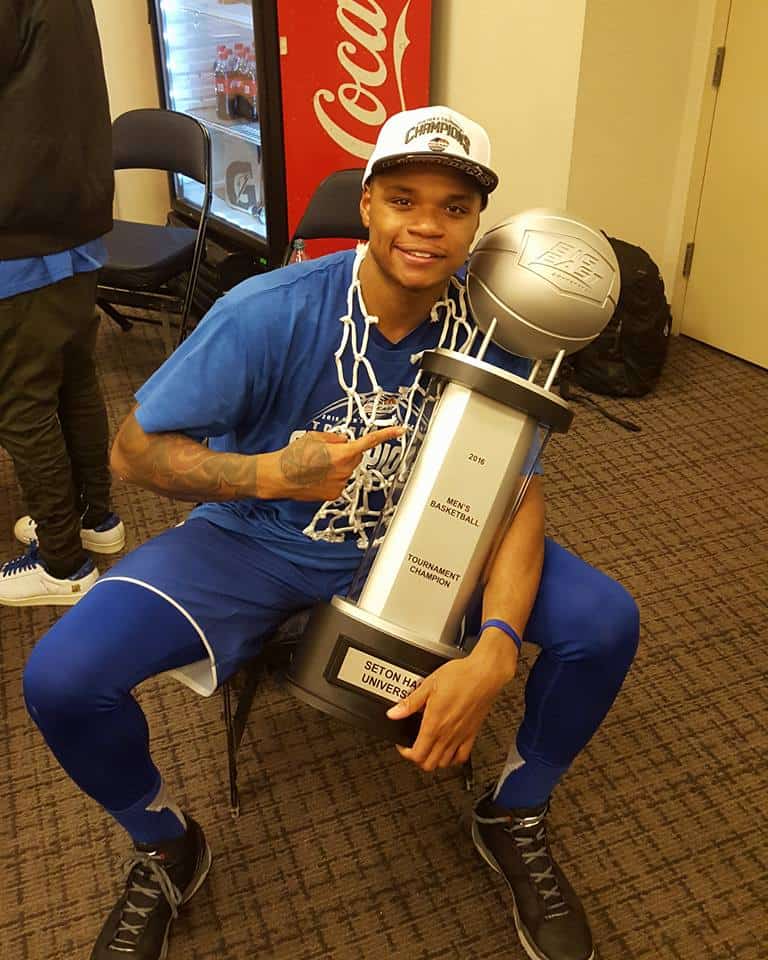 With Seton Hall's victory over Villanova in the Big East Championship on Saturday, Pirates guard Derrick Gordon became the first openly gay player to qualify for the Men's Division I NCAA Basketball Tournament, which begins this week.
Teams that win their conference tournaments earn automatic bids to what is known as March Madness, so Saturday's upset of the top-ranked Wildcats locked up Seton Hall's berth. Gordon became the first openly gay player in Division I Men's Basketball when he came out two years ago, before transferring from UMass to Seton Hall. Gordon will also be the first person to play in the NCAA tournament for three different programs, after transferring from Western Kentucky to UMass. But this marks the first time he'll do it since coming out.
"ANYTHING IS POSSIBLE….BIG EAST CHAMPS BABY!!" Gordon wrote on Facebook above a photo (above) of himself clutching the championship trophy in the locker room at Madison Square Garden after the game. "History In The Making!!"
There's so much more to Derrick Gordon than being the first openly gay player in a NCAA tournament

— Erin Kelly (@erinm_kelly) March 13, 2016
Seton Hall has a legitimate shot at making the Final Four, and Gordon is hardly a benchwarmer for the team, so his role could be a major LGBT story over the next several weeks. Aside from the MLS' Robbie Rodgers, male athletes who've come out in major sports, including Michael Sam and Jason Collins, have not been impact players on a national stage (Sam didn't come out until after his senior season, in which he was named the SEC's defensive player of the year). Gordon isn't a starter, but he's a lockdown defender and a spark plug. And, as the oldest player on Seton Hall's roster at 23, he's a leader.
"He's so mature," Pirates coach Kevin Willard told Fox Sports after Saturday's win. "He's been through a lot and he's matured a lot. He's really a calming presence for a group that is at times extremely emotional. He has been through it. This is his third NCAA tournament. It just kind of tells you what type of player and more importantly what type of person he is."
In 2016 this should not be news but it is progress. Meet first openly gay player in NCAA tourney https://t.co/F7JpIDOoOA via @USATODAY

— Eric D. Nemons (@Nemons_E) March 13, 2016
"He's just been such a rock for this team," Seton Hall athletic director Patrick Lyons said. "His leadership, who he is and what he stands for. He's exactly what we needed this year."
March Madness is huge in the sports world, and if Seton Hall advances deep into the tournament, Gordon could accomplish a lot for the LGBT community, especially as a role model for young gay men of color. Good luck, Derrick.