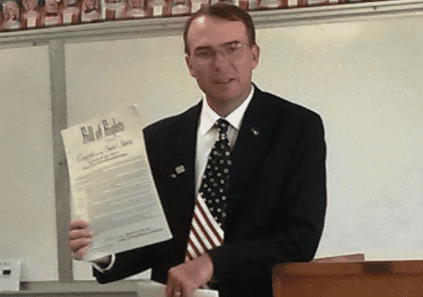 Back in January, we told you how anti-gay Iowa lawmakers have launched an investigation into an annual conference for LGBT youth, in response to allegations that last year's event included "X-rated" content.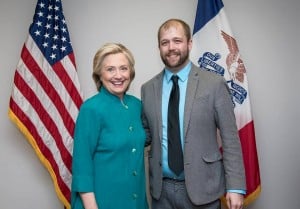 The annual Governor's Conference on LGBTQ Youth, which drew more than 1,000 people in 2015, is privately funded through donations, and therefore should not be subject to legislative oversight. However, because public school buses are used to transport some students to the conference, GOP state lawmakers are maintaining that they have the authority to somehow regulate the event.
Rep. Bobby Kaufmann, chair of the House Committee on Government Oversight, in January assigned rabidly anti-LGBT Rep. Greg Heartsill — who serves as vice chair of the committee and has led a hateful two-year campaign against the conference — to head up the investigation.
Heartsill, in turn, asked conference organizer Nate Monson, executive director of Iowa Safe Schools, to testify before his tribunal.
But Monson refused, with his attorney saying that agreeing to testify would "unnecessarily blur the bright line" between the private conference and the state's regulatory authority.
"That is simply a step too far," Monson's attorney wrote to Heartsill, adding that his testimony would "appear to acquiesce to state regulation and oversight of the content of this private organization's programming."
In response, Heartsill sent a letter to Monson's attorney threatening to subpoena the conference organizer, which brings us to Wednesday, when the Oversight committee debated whether it has the authority to do so.
"The concept that any legislative committee has some sort of carte blanche to compel private people to come before them and answer questions about issues that are in no way related to government activity, I find that really concerning," said Democratic state Rep. Mary Wolfe.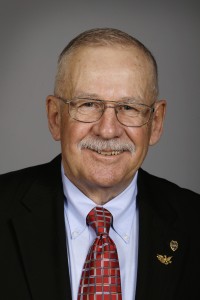 GOP Rep. Dawn Pettengill responded by noting that lawmakers are currently investigating a private boarding school over allegations of sexual abuse and physical assault — as if that is somehow comparable to an LGBT youth conference. As Wolfe started to respond, GOP Rep. Clel Baudler jumped in, according to a report from The Quad-City Times.
"Catfight," Baudler said, eliciting laughter from some committee members.
According to Wikipedia, "catfight" was first recorded as being used to describe a fight between women in 1854.
"The word cat was originally a contemptuous term for either sex, but eventually came to refer to a woman considered loose or sexually promiscuous, or one regarded as spiteful, backbiting, and malicious," the entry states.
Anyhow, it sounds as though the committee ultimately decided to back down from Heartsill's subpoena threat, and he's now set to give a final report on his investigation.
Monson, for his part, tells me that Iowa Safe Schools has no intention of heeding any of Heartsill's recommendations.
This year's conference is set for April 29 in Des Moines. To support the conference, which is funded entirely by donations, go here. To register for this year's event, go here.