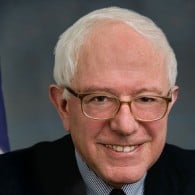 WIND IT DOWN: Democratic lawmakers reportedly tell Sanders it's over: "After holding their fire on Sanders for the better part of a year, the senators — all backers of Hillary Clinton — are gently calling on Sanders to face the reality that there's almost no chance he's going to be the Democratic nominee. They don't say outright he should quit; doing so would be counterproductive, they say. But nearly a dozen Democratic lawmakers suggested in interviews that Sanders should focus more on stopping Donald Trump and less on why he believes Clinton's stands on trade, financial regulation and foreign policy would make her a flawed president."
CUBA: President Obama arrives for historic visit. "The three-day trip, the first by a U.S. president to Cuba in 88 years, is the culmination of a diplomatic opening announced by Obama and Cuban President Raul Castro in December 2014, ending an estrangement that began when the Cuban revolution ousted a pro-American government in 1959."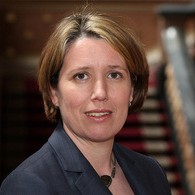 INTERVIEW: Gay British ambassador Judith Gough talks about what it's like working in Ukraine: "You get used to the double take," she says. "But I get that for a couple of reasons. One is because often when I'm introduced to people they think I am the ambassador's wife. So I get the double take. I've had said to me, 'Oh, but you're young and female, you can't be the ambassador.' And then if you introduce a female partner, yes, you get another double take. But on the whole in those situations people are polite."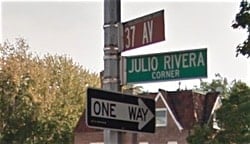 JULIO OF JACKSON HEIGHTS: New documentary makes note of a terrible Queens murder: "Julio Rivera, a 29-year-old gay man who worked as a bartender, was lured to the schoolyard, steps away from that corner, on July 2, 1990. Three white skinheads who wanted to "reclaim" their neighborhood from gays and homeless people set upon him, bashing his skull with a hammer and finishing him off with a knife. His death might have gone unnoticed if not for a few relatives and gay friends who began to mobilize New York City's lesbian, gay, bisexual and transgender community and put pressure on the Police Department, which had assigned the case to a detective who was on vacation."
CRISIS: Dramatic new coral bleaching observed on Australia's Great Barrier Reef: "The new video and stills are very concerning and show large sections of coral drained of all colour and fighting for survival. This is the worst coral bleaching event ever to hit this most pristine part of the Great Barrier Reef"
https://twitter.com/DRock1978/status/711789492437299201?ref_src=twsrc%5Etfw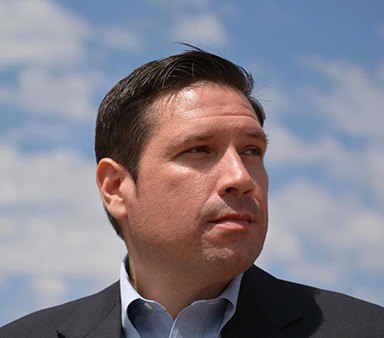 CONTROVERSY: Gay Santa Fe Mayor under fire for appearance on I Am Cait, but has no regrets: "I clearly did not know how right-wing she was when the request came into the office in November. But, certainly, had I known, I don't think that I wouldn't have accepted the offer to highlight Santa Fe's bathroom ordinance on the show. I think it sent out a very strong message…It's kind of sad that she's so right-wing in her views. Nevertheless, she's using her celebrity status as a platform to bring awareness and acceptance to the trans community. You can't discount that. Regardless of what you think her intentions are, I think that a lot of people are starting to change their view on the trans community because of the show."
FAST FOOD: San Francisco has its first automated restaurant. "The future is here, and no one's job is safe."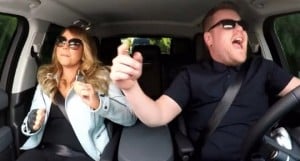 CARPOOL KARAOKE: James Corden says he couldn't have done it without Mariah: "Persuading anyone to actually do it was a nightmare," he writes. "No one could understand it. But my producer Rob was adamant that we had to keep asking, and finally Mariah Carey said yes. She had been recording in the studio late into the previous night and got in the car and said, 'I'm protecting my voice. We're just going to have a talk, right?' I remember going, 'Well, kind of. It's called Carpool Karaoke. It's really going to be us singing.' We chatted for quite a long time, and once she warmed up and started going, you couldn't stop her singing. It got 4 million hits in about two days."
SPORT: "Boxing cured my fear that I was a fragile gay man": "I'm not watching my back anymore to make sure I'm not being 'too flamboyant' and thereby making myself into a target. I no longer accept as a given that I must give way to "real" men because they're stronger than me. Honestly, it wasn't even something I knew that I was practicing until it was gone. But now that it's gone, I wish I'd let it go a whole lot sooner."
WEEKLY ADDRESS: Obama took on a powerful defense of his SCOTUS nominee Merrick Garland over the weekend: "I fulfilled my Constitutional duty. Now it's time for Senators to do theirs. I hope that they take the time to reflect on the importance of this process to our country. I hope that they'll act fairly. And I hope they'll work in a bipartisan fashion to confirm Merrick Garland to the Supreme Court. That's how we can uphold our pledge to liberty and justice for all – for our time and for generations to come. "
INTERCEPT: Mysterious lobbying group won't say who it's lobbying for: "The Commercial Energy Working Group (CEWG) is one of the many lobbying organizations in Washington. They make recommendations to federal agencies and try to sway lawmakers on policies. They engage in the basic political work of making the government friendlier to business. There's only one problem: who the Commercial Energy Working Group actually represents is a secret…The group has no web site, does not file annual reports with the IRS, and hasn't sought incorporation in any state. It operates out of a D.C. law firm – Sutherland, Asbill & Brennan – and used the Sutherland offices as their formal business address in their initial 2013 lobbyist disclosure form."
INKED: Jack Osbourne has a massive back tattoo: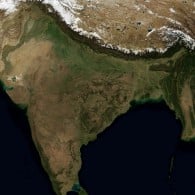 OP-ED: Dreaming of gay rights in Delhi: "The gay rights movement has often dreamed biggest at the worst of times. This is a bad time in India, a time of curtailed freedoms and creeping authoritarianism. In such an atmosphere, there is something wonderful in the idea of a court in this once great democracy replacing an outdated Victorian law with something as simple and attractive as an unalienable right to love."
MONDAY MORNING MAN: Boxer and UnderArmour pro athlete 'Big Nasty' Munteanu.
https://www.instagram.com/p/BDIowNXAJs5/?taken-by=bn_munteanu
---
DEALS OF THE DAY: Deals around the web we think might appeal to Towleroad readers….
If you've been waiting for the right time to buy Adobe Photoshop Elements 14 to do some artistic retouching of your photo collection, today might be the day as the software is on sale for 50% off at $49.99. This is a 'lighter' version of Adobe's famous Photoshop software and it's perfect for the non-professional consumer.
Looking for a Bluetooth speaker? You can buy this Harman Kardon – One Portable Bluetooth Speaker – Black from Best Buy through their eBay store for $79.99 – that's 60% off the normal price of $199.99.
Coconut oil facilitates weight loss, boosts immunity, improves digestion, heals infections, and is great for the skin and hair, according to reports, and those of you who are enthusiasts might want to scoop up this bargain today. Anjou Coconut Oil Certified USDA Organic Extra Virgin Cold-pressed is on sale for $7.99 for 11 oz.
Disclosure: If you buy something through hyperlinks to supporting retailers, we may get a small commission on the sale. Thanks for your ongoing support of Towleroad and independent publishing.