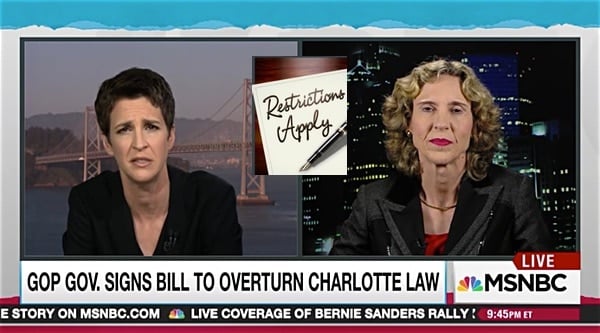 Rachel Maddow turned her gaze to North Carolina's HB 2, the discriminatory anti-LGBT law passed in a rushed special session by Republicans which revokes and bans all local LGBT rights ordinances in North Carolina.
The rush to pass the bill, of course, was to head off an LGBT nondiscrimination ordinance passed in Charlotte that was to go into effect on April 1, and Republicans once again held up the false specter of transgender predators in restrooms to push the bill through.
Maddow took her audience through how the bill went down and invited Charlotte's Mayor Jennifer Roberts on the show to respond.
Said Roberts:
"The speed and the secrecy with which this came down have us still trying to figure out what this law actually means for Charlotte and for businesses and for the way that we operate our own facilities. Now we're trying to figure out what it means for how we go forward. We're trying to figure out if we can overturn this."
Roberts added that she was angry that Charlotte's "values have been hijacked" by "some extremists" and they are trying to figure out what the response should be:
"I was frankly appalled at the speed and the – as you said  – special session called for emergency needs to allow people to discriminate. Because really when the state came back and put in its own antidiscrimination which included race, religion, national origin, left out sexual orientation, gender identity, and gender expression – what they did was sanction discrimination against our lgbt community. And I am appalled. The fact that someone can walk out of their business and find a sign in front of their business that says no gays welcome here, and that will be perfectly legal."
Watch: