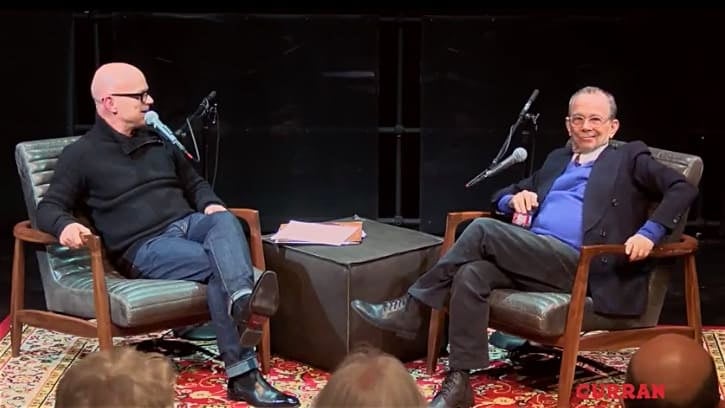 Kevin Sessums sat down with Joel Grey on March 8 as part of the Curran Theatre's "Groundbreakers with Kevin Sessums" series. Sessums is Editor at Large at the Curran. You might recall Sessums' interview with Jonathan Groff from the same series, in which Groff spoke about his "most intense sex scene" ever.
Below are three great clips from Sessums' interview with Grey, who only came out publicly in January 2015.
In the first clip, Grey talks about youthful gay fantasies and having a gay experience in 1942 with a 16-year-old when he was just ten, despite the fact that people who were homosexual were getting arrested.
Watch:
In the second clip, Grey talks about being sexually abused by a cantor at his temple when he was a teenager: "I learned from it, and I'm here."
And coming out to his mother. His mother told him, "You disgust me. Don't ever talk to me again."
Adds Grey: "And that was the beginning of the end, of that."
Watch (clip is only about 2:30 long even though it says 12:30):
And in the third clip he talks about the 3 Larrys in his life: Larry Kert, Larry Kramer, and Larry Hagman.
Kert was the star of West Side Story and was one of the first men Grey knew who died of AIDS-related causes. Kramer is the playwright behind The Normal Heart which became a profound part of Grey's life and career. And Hagman, of course, played J.R. Ewing in Dallas, and was Grey's neighbor in Malibu, for which Hagman gave Grey a very special award.
Grey also announces he wants to restage The Normal Heart at the Curran Theatre.
You can watch the full interview below: