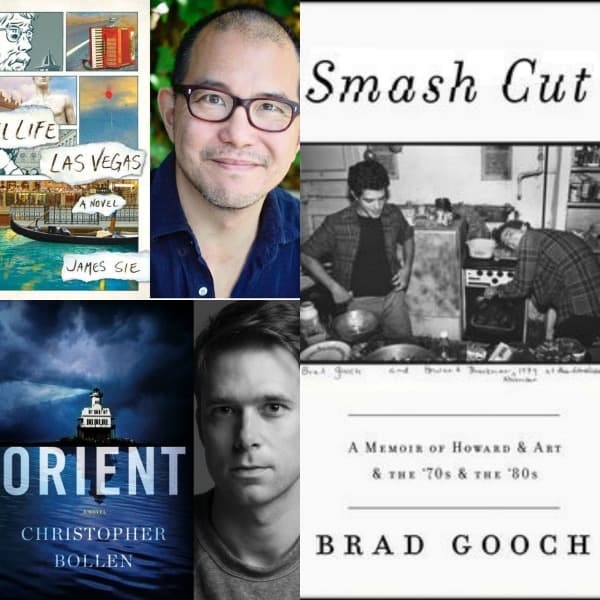 The 28th Annual Lambda Literary Award finalists were announced yesterday in 25 categories. The organization received a record-breaking 933 submissions from 321 publishers.
The winners will be announced at a ceremony on June 6.
Said Lambda Literary Board President, KG MacGregor in a press release: "The Lambda Literary Awards were founded in 1989 to elevate the profile of LGBT literature. In so doing, we also elevate the lives of those who find themselves authentically portrayed in our stories. It is with great pride that we come together each year to celebrate the excellent works of inspiring authors who have walked in our shoes."
Three of this year's nominees have been featured as part of our TowleREAD series which gives Towleroad readers audio preview of great new LGBT books. Recap some of this year's best and take a listen as Brad Gooch reads from his memoir Smash Cut, Christoper Bollen reads from his novel Orient (which Towleroad's book critic Garth Greenwell raved about), and James Sie reads from his book Still Life Las Vegas. 
And check out the full list of this year's nominees for the Lammy's, as they're known, below.
---
Lesbian Fiction
Apocalypse Baby, Virginie Despentes, The Feminist Press
Blue Talk and Love, Mecca Jamilah Sullivan, Riverdale Avenue Books
The Cherokee Rose, Tiya Miles, John F. Blair
The First Bad Man, Miranda July, Scribner
Jam on the Vine: A Novel, LaShonda Katrice Barnett, Grove Press
Like a Woman, Debra Busman, Dzanc Books
Thérèse and Isabelle, Violette Leduc, The Feminist Press
Under the Udala Trees, Chinelo Okparanta, Houghton Mifflin Harcourt
Gay Fiction
Bisexual Literature (Fiction & Nonfiction) 
Transgender Fiction
LGBT Debut Fiction
LGBT Nonfiction
Transgender Nonfiction
Lesbian Poetry
The Devastation, Melissa Buzzeo, Nightboat Books
Everybody's Bread, Claudia Rodriguez, Korima Press
Experience in the Medium of Destruction, Sara Jane Stoner, Portable Press@Yo-Yo Labs
Girls Like You, Margot Douaihy, Clemson University Press
Life in a Box is a Pretty Life, Dawn Lundy Martin, Nightboat Press
Pelvis with Distance, Jessica Jacobs, White Pine Press
Say/Mirror: Poems and Histories, JP Howard, The Operating System
Shorthand and Electric Language Stars, Stephanie Gray, Portable Press@Yo-Yo Labs
Gay Poetry
Transgender Poetry
Lesbian Mystery
Gay Mystery
After the Horses, Jeffrey Round, Dundurn
The Boys from Eighth and Carpenter, Tom Mendicino, Kensington Publishing
Boystown 7: Bloodlines, Marshall Thornton, Kenmore Books
Cheap as Beasts, Jonathon Wilson, Bold Strokes Books
Introducing Sunfish & Starfish: Tropical Drag Queen Detectives, Wallace Godfrey, Strand Hill Books
Murder and Mayhem, Rhys Ford, Dreamspinner Press
Orient, Christopher Bollen, Harper
The Swede, Robert Karjel, Harper
Lesbian Memoir/Biography
Gay Memoir/Biography
Lesbian Romance
Autumn Spring, Shelley Thrasher, Bold Strokes Books
The Chameleon's Tale, Andrea Bramhall, Bold Strokes Books
Full Circle, Dillon Watson, Bella Books
Heart of the Game, Rachel Spangler, Bold Strokes Books
Infiltration, Jackie D, Bold Strokes Books
Making A Comeback, Julie Blair, Bold Strokes Books
My Best Friend's Girl, Blythe H. Warren, Bella Books
The Renegade, Amy Dunne, Bold Strokes Books
Gay Romance
Blueberry Boys, Vanessa North, Riptide Publishing
Brothers, Ralph Josiah Bardsley, Bold Strokes Books
For Real, Alexis Hall, Riptide Publishing
General Misconduct, L.A. Witt, Samhain Publishing
Misfits, Garrett Leigh, Riptide Publishing
Something Like Stories, Volume One, Jay Bell, Jay Bell Books
When Skies Have Fallen, Debbie McGowan, Beaten Track
Yes, Brad Boney, Dreamspinner Press
Lesbian Erotica
Desire Behind Bars: Lesbian Prison Erotica, Salome Wilde and Talon Rihai (editors), Hillside Press
The Muse, Meghan O'Brien, Bold Strokes Books
Sweet & Rough: Queer Kink Erotica, Sinclair Sexsmith, Maverick Press
Gay Erotica
Charming: Modern Gay Fairytales, Jennifer Levine and Rian Darcy, Circlet Press
College Dive Bar, 1 AM, Natty Soltesz, Go Deeper Press
Érotiques Suprèmes, Miodrag Kojadinovic, Choose the Sword Press
Grave Desires, William Holden, Lethe Press
Green Eyes – an erotic novel (sort-of), Michael Ampersant, Lust Spiel Book
LGBT Anthology
Beyond: The Queer Sci-Fi & Fantasy Comic Anthology, Sfé R. Monster (Editor) & Taneka Stotts (Assistant Editor), Beyond Press
Glitter and Grit: Queer Performance from the Heels on Wheels Femme Galaxy, Edited by Damien Luxe, Heather M. Ács, and Sabina Ibarrola, Publication Studio
Memories of the Revolution, Holly Hughes, Carmelita Tropicana, and Jill Dolan, Editors, University of Michigan Press
Out of the Closet, Into the Archives: Researching Sexual Histories, Amy L. Stone and Jaime Cantrell, SUNY Press
A Pride of Poppies: Modern GLBTQI fiction of the Great War, Julie Bozza (editor), Manifold Press
Soy Lesbiana y Que! Out Latina Lesbians, Nívea Castro with Geny Cabral, Sinister Wisdom
Speak My Language, and Other Stories: An Anthology of Gay Fiction, Edited by Torsten Højer, Little, Brown Book Group/Robinson
Videogames for Humans: Twine Authors in Conversation, Merritt Kopas, Instar Books
LGBT Children's/Young Adult
About a Girl: A Novel, Sarah McCarry, St. Martin's Griffin
Anything Could Happen, Will Walton, Push
Gay and Lesbian History for Kids: The Century-Long Struggle for LGBT Rights, Jerome Pohlen, Chicago Review Press
George, Alex Gino, Scholastic Press
The Marvels, Brian Selznick, Scholastic Press
More Happy Than Not, Adam Silvera, Soho Teen
None of the Above, IW Gregorio, Balzer + Bray/ Harper Collins
Simon vs. The Homo Sapiens Agenda, Becky Albertalli, Balzer + Bray/Harper Collins
LGBT Drama
Bright Half Life, Tanya Barfield, Dramatists Play Service
Fun Home, Music by Jeanine Tesori, Book and Lyrics by Lisa Kron, Based on the Graphic Novel by Alison Bechdel, Samuel French
Hir, Taylor Mac, Northwestern University Press
Love Alone, Deborah Salem Smith, Dramatists Play Service
The Mystery of Love and Sex, Bathsheba Doran, Samuel French
LGBT Graphic Novels
Curveball, Jeremy Sorese, Nobrow
Honor Girl, Maggie Thrash, Candlewick Press
The Less Than Epic Adventures of TJ & Amala, EK Weaver, Iron Circus Comics
O Human Star: Volume One, Blue Delliquanti, Self-published
Wuvable Oaf, Ed Luce, Fantagraphics Books
LGBT SF/F/Horror
The Boys on the Mountain, John Inman, DSP Publications
The Caphenon (Chronicles of Alsea – Book #1), Fletcher DeLancey, Ylva Publishing
Down, Ally Blue, Riptide Publishing
The Glittering World, Robert Levy, Gallery Books
The Gracekeepers, Kirsty Logan, Crown Publishers
Minotaur, J.A. Rock, Riptide Publishing
Sacrati, Kate Sherwood, Riptide Publishing
Wonder City Stories, Jude McLaughlin, Createspace
LGBT Studies
Arresting Dress: Cross-Dressing, Law, and Fascination in Nineteenth-Century San Francisco, Clare Sears, Duke University Press
Funk the Erotic: Transaesthetics and Black Sexual Cultures, L.H. Stallings, University of Illinois
Gay Fathers, Their Children, and the Making of Kinship, Aaron Goodfellow, Fordham University Press
Indifference to Difference: On Queer Universalism, Madhavi Menon, University of Minnesota Press
Not Gay: Sex between Straight White Men, Jane Ward, NYU Press
Queer Marxism in Two Chinas, Petrus Liu, Duke University Press
A Taste for Brown Bodies: Gay Modernity and Cosmopolitan Desire, Hiram Pérez, NYU Press
Thinking Sex with the Early Moderns, Valerie Traub, University of Pennsylvania Press