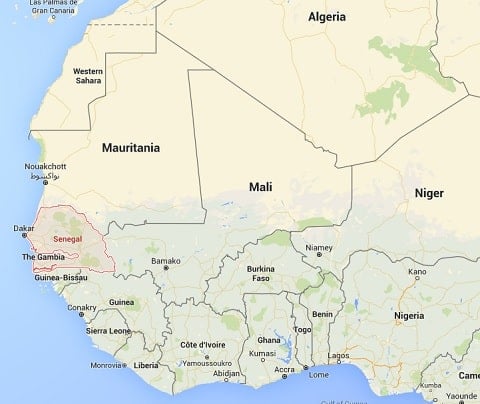 After a male student hit on a male classmate in a Senegalese university last week, a mob of students formed to track down and harass the man, causing damage to the campus.
Video has emerged showing a group of students surrounding and taunting the gay student. A security guard at Cheikh Anta Diop University in Dakar who witnessed the attack said:
"We saw a hoard of young people gathering on a part of campus where there's a bank and a restaurant. They were screaming 'We are going to kill him!' The young man who was being chased hid inside the offices of the head of campus security. The mob wanted him to come out and there was a heated exchange between them and the security personnel.
"The bank decided to evacuate its staff until the police arrived. The police fired tear gas to disperse the students so the young man could come out. The angry students went on to burn down the buildings belonging to the campus security guards. They also destroyed the ATM outside the bank as well as the bank's signs. They openly criticized security guards for 'helping a homosexual' man flee."
https://www.facebook.com/sallinovic/videos/982990375114741/
In a statement, a university official wrote:
"Armed with iron bars and clubs, [the students] ransacked furniture and material and knocked over plates filled with food at Sinkou restaurant. They also stole mobile phones and molested restaurant staff. Eight students were transported to a medical center, two of whom were seriously injured. We are still wondering what link there is between the question of 'homosexuality' and destroying property."
According to The Observers, this is ninth known attack on a gay student in Cheikh Anta Diop University since 2012.
Last year, Senegalese President Macky Sall said that the country is not ready to decriminalize homosexuality which is punishable with up to five years in prison and fines of up to 1.5 million Francs CFA (around $2,600).