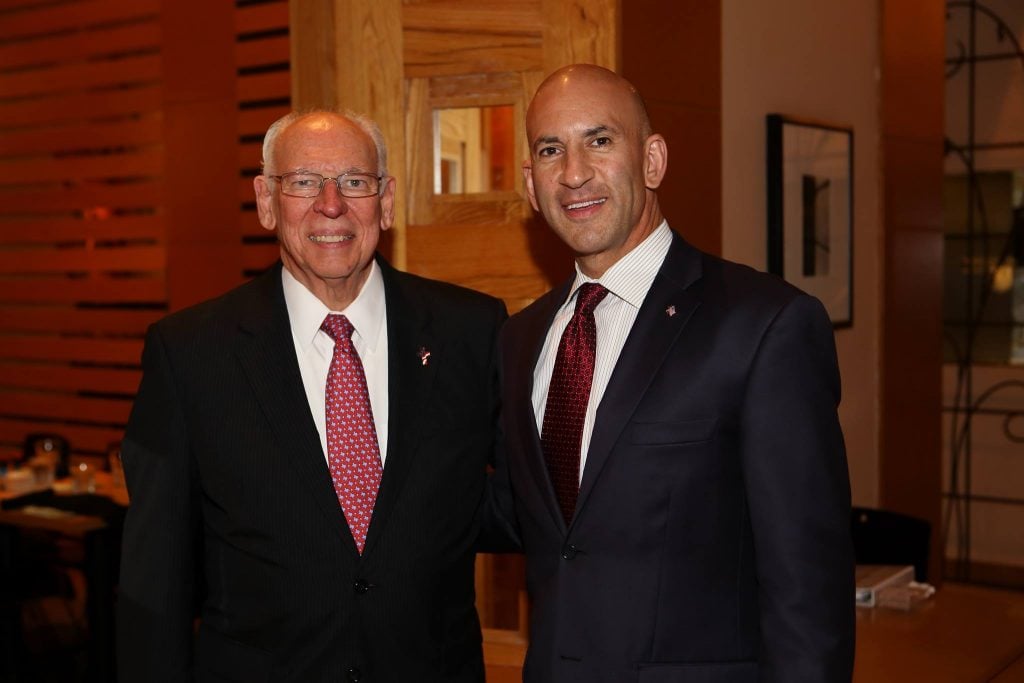 One anti-LGBT Texas lawmaker says he's willing to die politically in order to prevent transgender people from using restrooms according to their gender identity.
State Rep. Matt Shaheen (above with Sen. Ted Cruz's father, Rafael), a Republican from Plano, also says he doesn't care if Target, which recently announced it will allow trans people to use the restrooms of their choice in its stores, leaves the state entirely.
"If Target wants to close all their stores in the state of Texas, I will go over and help them pack and help them leave," Shaheen told The Texas Tribune. "I will die on this issue politically. I am going to bat for my wife and my daughters."
Shaheen's comments followed a tweet from Texas Lt. Gov. Dan Patrick on Wednesday morning, in which Patrick announced he's boycotting businesses that "allow men to use women's restrooms." Patrick's tweet revived debate over the issue in Texas, where several pieces of legislation similar to North Carolina's House Bill 2 were defeated last year in the face of opposition from the business community.
But in a subsequent TV interview, Patrick called business backlash over House Bill 2 ""nonsense" and "big bluff and bluster."
Patrick's statements are hardly surprising, given that he spent more than $50,000 on a disgusting TV ad opposing the Houston Equal Rights Ordinance last year, and that he has a petition on his website calling for people to "Say No To Men In Women's Restrooms."
Ditto for Shaheen, who first got elected to public office by gay-baiting his GOP opponent, and who fought the passage of a nondiscrimination ordinance in his hometown in 2014. At the time, Shaheen told Plano City Council members that instead of adding sexual orientation and gender identity to nondiscrimination laws, they should consider removing blacks and women.
"Do we really think the citizens of Plano are going to discriminate against women or minorities or African-Americans? I don't think so," Shaheen said. "I would ask you to consider that — not adding classes, but taking away classes."