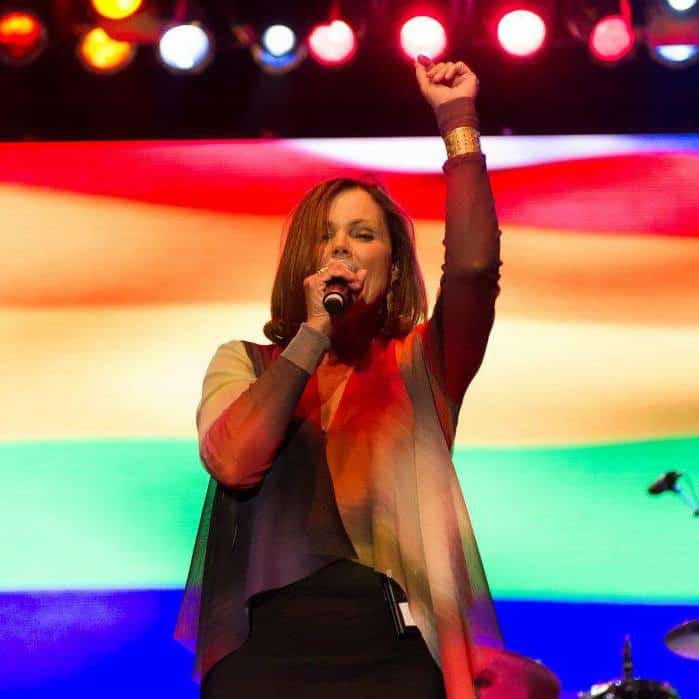 Belinda Carlisle, singer, Go-Gos founder, and gay rights supporter, has ripped into Mississippi Governor Phil Bryant for signing into law HB 1523, which has been called 'the worst religious freedom bill to date' in the U.S.
Carlisle announced via Facebook that she would not be cancelling a planned concert in Mississippi despite initially being inclined to do so. She said she spoke with LGBT rights activists and decided to carry on with her show–but not without taking Bryant to task.
Governor Bryant,
I am scheduled to perform in your great state this Saturday, however given the very recent anti-LGBTQ attacks that your administration has leveled against some of your own citizens I very nearly cancelled my appearance. After discussion with various LGBTQ groups, however, I've decided to go forward with the show in order to say a few things to those who live in the Magnolia State — and I want to start off by addressing you directly.
As the very proud mother of a gay child I can't imagine anything less Christian than using the law as a weapon against others. Because of my career as a performer and the privilege that has brought to our family, my son will be all right, but the pain you're causing LGBTQ Mississippians is devastating, especially the transgender folks and LGBTQ people of color who will be most directly impacted by these attacks. Brave organizers like Kaylee — a black transgender Mississippian — and Brandiilyne — a lesbian pastor in Mississippi — are just two of the people who will be directly impacted by hateful bills like these. Their bravery in organizing against these attacks is stunning.
Nearly 30 years ago, I released a song titled "Heaven Is a Place on Earth." I was proud of the message of that song then and I continue to be proud of it today. Unfortunately, Governor Bryant, you and those around you are making life hell on earth for many Mississippians.
So I'll go forward with my show on Saturday and I'll use it as an opportunity to speak the truth about the bravery of people like Kaylee and Brandiilyne and so many others across your state who are resilient and loving and brave. Finally, it is my call, as a mother, that you bring a little bit of heaven to Mississippi by repealing HB1523.
Carlisle is mother to out gay actor and activist James Duke Mason. She has been outspoken in her support of marriage equality and her support for her son. 
Actress Sharon Stone recently decided to cancel shooting of an upcoming movie set to take place in Mississippi because of HB 1523. Rocker Bryan Adams also cancelled a show in the Magnolia State over the anti-LGBT law.