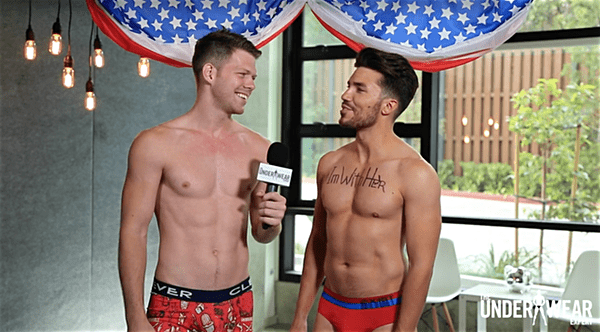 With the Democratic primary between Bernie Sanders and Hillary Clinton heating up ahead of next week's New York primary, it's not a bad idea to focus on the common ground shared by supporters from both sides. For that, we turn to a perhaps unlikely source: the Underwear Expert.
UE's insatiable desire to see attractive men drop trou has brought together a pair of Bernie bros and Hillary supporters in their latest video in which they ask their favorite question: boxers or briefs? And it turns out, there's almost unanimous consensus among these guys.
Previously, UE has talked to dodgeball players, WeHo kickball players, DJs, dancers, CrossFit-ers, male models, and men on the street in Hollywood, WeHo, and Santa Monica about what they like to wear under their shorts.
Watch as host DanielXMiller makes another group of guys take it off, below.