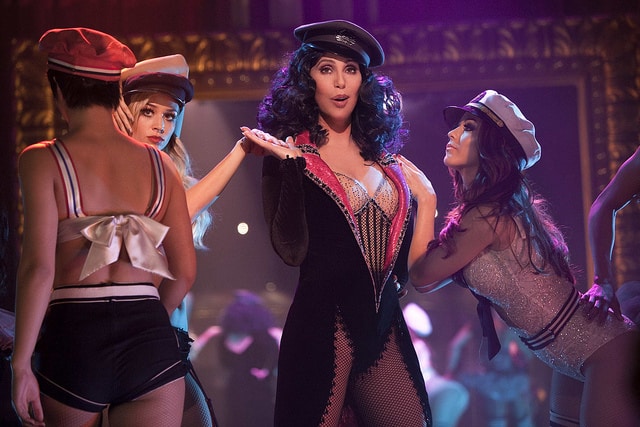 Cher: The Musical is one step closer to fruition.
Veteran writer Rick Elice (Jersey Boys) has been tasked with adapting the iconic singer/actress' life for the Broadway stage, working closely with Cher herself on the project.
Spent last 3 Days with Rick‼️
He is Writer of Cher Musical.
We had so much fun✨💖✨
He wrote Jersey Boys.
Hhmmm… She'll be more of a PAIN😂

— Cher (@cher) October 25, 2015
Now, Elice is days away from turning in the first draft of the script to producers and only one month away from submitting the script to Cher herself (on the star's 70th birthday, no less).
Elice is determined not to do a standard biomusical, though he's no slouch in that department. He and writer Marshall Brickman did pretty well with "Jersey Boys," the Four Seasons bio that's been running at the August Wilson Theatre since 2005.
The problem with Cher, Elice says, is that her "life is so wildly documented. There is not much we don't know about her. I was not a fanatical Cher fan, but when I started working on this show I was surprised at how much I knew."
Sources say the musical will take audiences through Cher's life as a child, as the wife of Sonny Bono, and as the woman who finds success — and legendary status — on her own.
Three different actresses will play her at these three points in her life.
There had been some speculation that Cher would appear as herself in the final act, but those rumors have reportedly been squashed.
As currently imagined, Cher: The Musical would incorporate many of her most iconic hits from her career. More from The Post:
"Cher: The Musical" — that's the working title only, people — will touch on all these aspects of her life, along with her hits: "I Got You Babe," "Gypsies, Tramps and Thieves," "Take Me Home," "Believe," "If I Could Turn Back Time."
"So far, I've been working on this by myself — well, me and iTunes," says Elice.
He put the show aside last year to take care of his husband, the great Roger Rees, who was fighting brain cancer. Rees died in July 2015. Three months later, Cher called. She suggested they start working again and invited him to spend time with her in California.
Says Elice: "I thought, if Roger were here, the first thing he'd say is, 'Get on the plane and go to Cher's house already!' I mean, if you're going to rejoin the human race, why not do it with Cher?"
[Photo via Flickr]