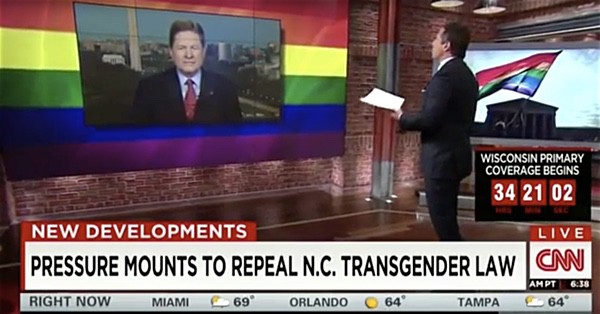 CNN's Chris Cuomo confronted hate group leader and Family Research Council mouthpiece Peter Sprigg about the right-wing "bathroom bill" scare tactics used to defeat LGBT rights bills and pass discriminatory laws like HB2, recently passed in North Carolina.
Sprigg is a hater through and through, however, and doesn't understand rational thought, nor would he pretend to, because he's a simple bigot.
Here's part of the transcript, via Media Matters:
CUOMO: But times change. And that's what this is really about. Are you ready to change in North Carolina? Are you ready to respect transgender people for what they say they are? Because you can't point to any potential danger here. I know that's what you are doing and others are doing, saying there is a risk to women. But we don't see that play out in any statistic that you can cite. You know I know you have been using the baker analogy that we saw with gay marriage. You shouldn't have these bakers be having to bake cakes for people they don't want. You shouldn't have these girls having to go into bathrooms with people they don't want. We don't see that risk. However, we do see the reciprocal risk. We do see the risk to transgender people when they are called out and exposed to this kind of scrutiny.
[…]
SPRIGG: When you see someone who is obviously a man, regardless of whether they're wearing a dress or not, I think a woman in a restroom where she expects only to be with women or a girl who expects to be with girls, has the right to feel uncomfortable about that. And to feel like her privacy has been violated. It is a privacy issue. Even if their safety is never violated in practice.
CUOMO: But the point is that the reason it looks like a man is because the person identifies as a man. So they want to go into the men's bathroom. You're saying yeah but on the birth certificate, it still says that that person is woman so they have to go into the women's bathroom. You're creating the problem. You're not solving it.

SPRIGG: No, No. The transgender people are creating the problem by pretending to be the opposite of their actual biological sex even when people can see that they are their biological sex.
CUOMO: See, but that's the pretending part, though, Peter, right? Because that's the concern. You're saying they're pretending. They're saying they're not pretending. And this is part of cultural evolution. You seem unwilling to embrace that.
Watch: