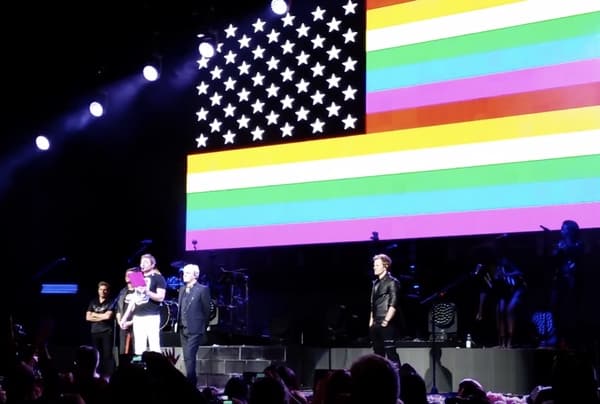 As promised, Duran Duran played its concert in Charlotte and made a big statement about the anti-LGBT law.
Said the band under a lit up rainbow flag:
"With respect to the current storm that is brewing through this state, we considered cancelling our show tonight, but decided to go ahead both for the sake of our fans but also to support those in North Carolina who feels as strongly as we do about this issue.
"You see here it is again, just plain old fashioned prejudice, fear and oppression, the same old kind that's blighted humanity, in varying degrees, for all of its history. Duran Duran is opposed to bigotry and discrimination in all of its ugly forms, and so it follows that we are opposed to the basic premise of HB2. We support the rights of Gay, Lesbian, Bisexual & Transgender community, to have equal opportunities. We support their rights to live free, happy, fulfilled lives.
"If you live in this State and feel the same way, we urge you to register, so that you can vote; so that your voice can be heard. We urge you to sign this petition which will be presented at the General Assembly meeting on April 25th in North Carolina. You have the power to repeal this outdated and cruel legislation."
The band then invited Equality North Carolina's Matt Hershey to bring the petition on stage for them to sign.
Watch:
https://www.youtube.com/watch?v=jjAKLkZaSdU