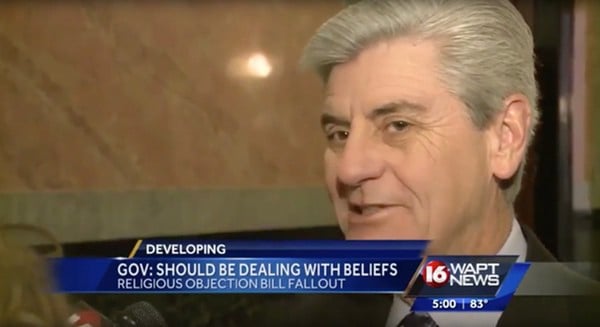 In an interview with Jackson, Mississippi's WAPT, Governor Phil Bryant made fun of the artists and musicians boycotting the state over the anti-LGBT "religious freedom" bill, calling the boycotts attention-getting stunts for washed-up celebrities.
"All of a sudden we have one guy from the 1980s that canceled a concert and we all want to talk about that. It is interesting (that) the media says 'Y'all ought to be dealing with all these important issues and not some issue about someone's deeply held religious beliefs,'" Bryant said. "I often wonder if people aren't taking advantage of that type of thing. You haven't been heard from in a long time, maybe you're dropping out of the entertainment business and all of a sudden you think it's a pretty good way of getting attention."
Bryant said the bill is like those passed in other states, except that Mississippi's law protects a person's religious beliefs and does not allow discrimination.
"If you'll read the bill, it deals with marriage. It deals with deeply held religious beliefs. It's not going to take anyone's rights away from them," Byrant said. "It simply says the government cannot discriminate against people of faith or religious organizations, which is the same law — if I can get anyone to look at that ––that Gov. (Andrew) Cuomo signed into law in New York in 2011. He signed the same law, almost the same language. Ours is expanded to people who have deeply held religious beliefs, only in the area of marriage."
Yesterday, the UK issued a travel warning over Mississippi.
Celebrities that have publicly boycotted Mississippi include Sharon Stone, Bryan Adams, and Tracy Morgan. Lance Bass and Belinda Carlisle have both called out the state publicly.
Perhaps the news media should ask Bryant about the alleged anti-gay attack on his allegedly gay son.
Watch: