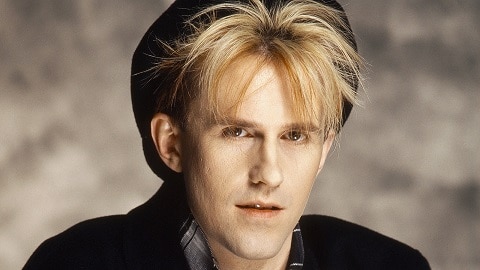 This week in New Music: The soundtrack for Eddie the Eagle will make you forget that the last 30 years ever happened, Scottish miserabilists Frightened Rabbit make a play for the U.S. market on Painting of a Panic Attack, and Parquet Courts thankfully stop messing around on their proper new album Human Performance.
---
Eddie the Eagle Soundtrack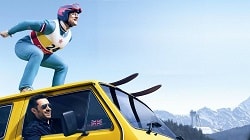 Not exactly a familiar face in the U.S., Eddie the Eagle was a household name in the UK in 1988 after he became the first competitor to represent Great Britain in Olympic ski jumping. Eddie Edwards failed miserably in his attempt but everyone loves an underdog.
Almost 30 years later comes Dexter Fletcher's biographical movie Eddie the Eagle which is accompanied by a soundtrack album curated by Take That's Gary Barlow. Fly includes some of the biggest pop stars of the 80s performing new songs in the 80s style, among them such luminaries as Howard Jones (top), Nik Kershaw, Holly Johnson, Marc Almond and Andy Bell.
A number of the songs are so cleverly referential that they pay homage to other big 80s tracks. "Ascension" by Holly Johnson recalls perfectly Frankie Goes to Hollywood's "The Power of Love" while you might notice some Simple Minds riffs on "Eagle Will Fly Again" by Howard Jones. Marc Almond's "Out of the Sky" could have come from Soft Cell's The Art of Falling Apart.
It's hard to pick a standout track from the album because it really needs to be heard as a whole. However, I'm happy to go with "Living Inside My Heart" by ABC or "Pray" by Heaven 17.
---
Frightened Rabbit – Painting of a Panic Attack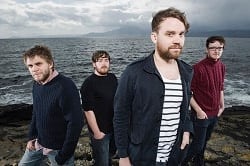 Scottish miserabilists Frightened Rabbit are something of a niche act but with their fifth album Painting of a Panic Attack produced by The National's Aaron Dessner that could all be about to change.
What you will not get from Frightened Rabbit are any songs in the happy-clappy range. Rather, they are known for introspective yet magnificently emotive songs on a theme of – usually – despair and sadness. This album was apparently inspired by singer Scott Hutchison's homesickness while in Los Angeles. The song titles alone are something of a giveaway. From "Anotherwise Disappointing Life":
"I don't need water, I just want to wave goodbye and bring this otherwise disappointing life back to life…"
The songs on this album perhaps lose some of the bombastic, over the top oppressiveness on earlier efforts. "Die Like a Rich Boy" for example is the closest the lads have come yet to a ballad ("If you leave this world in a rhinestone shroud, we could finally make your father proud.")
This is not music for pop fans and could be in fact the polar opposite of the uplifting positivity on the Eddie the Eagle soundtrack. Frankly, if you're a fan of The Smiths, Trent Reznor, Beck's Seachange and Radiohead, this will be right up your street. Otherwise, avoid, avoid, avoid. Me, I love it.
---
Parquet Courts – Human Performance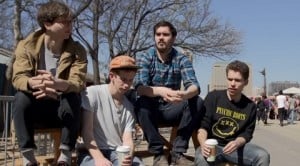 Late last year, garage rock act Parquet Courts appeared to be messing around with their fans on the pointless, meandering and mostly instrumental Monastic Living. That was a great shame as on their previous albums they had shown a talent way beyond your average garage rock act.
Human Performance thankfully sees them back on form on a collection of tracks that as ever recall Pavement and often aim at The Velvet Underground. However, what could be pastiche in lesser hands leaves the listener with a sense of Lou Reed's trajectory from VU to Berlin and on to New York.
An intelligent collection with something to say, "dust is everywhere, sweep" they sing on repeat on "Dust." They're not on about cleaning. It's about the state of Western civilization.