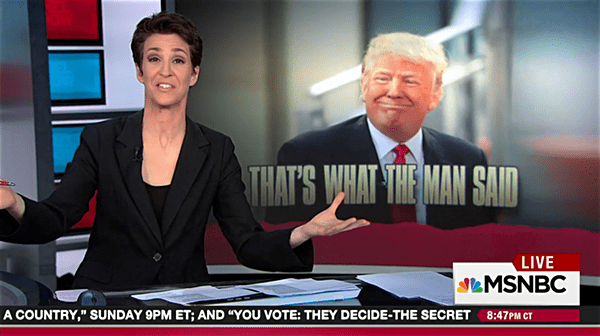 Last night, Rachel Maddow dug into Donald Trump's surprising opposition to HB 2, North Carolina's anti-LGBT law that makes it illegal for transgender people to use bathrooms in accordance with their gender identity.
During an NBC Town Hall, Trump said that people should be able to "use the bathroom that they feel is appropriate." Since then Ted Cruz has blasted Trump at a campaign rally and with an off-the-chart transphobic ad targeting him.
And that's maybe not surprising because Trump's opposition to HB 2 and quasi support for LGBT rights is, frankly, a little bit shocking if for no other reason than it upends the Republican party's anti-LGBT orthodoxy.
Calling this an "interesting moment", Maddow said,
"Elected Republican officials and high level candidates have recently been uniformly and aggressively anti-LGBT. Now they are having a full on fight about this particular issue which is still absolutely rattling the state of North Carolina itself. This is truly a most unexpected development in the most unexpected candidacy of Donald J. Trump."
Maddow added, "The culture wars just got very weird, at least in terms of personnel…Donald Trump: LGBT ally. I mean, not really."
To talk about this plot twist, Maddow interviewed BuzzFeed's DC Bureau Chief John Stanton.
Watch both segments, below.