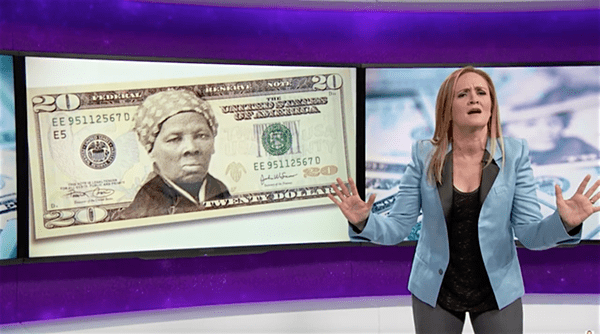 On Monday, Samantha Bee blasted conservatives who freaked out about the U.S. Treasury announcing that Harriet Tubman will appear on the front of the twenty-dollar bill, replacing Andrew Jackson.
Bee quipped, "When we make such a dramatic change to something no one ever looks at, we have to consider the fragile feelings of white men who tragically appear on only seven out of seven bills currently in production."
Bee especially went after Fox News commentator Brian Kilmeade, who opined, "How could you be remaking history at this rate? ….Others feel ousting a past president who's done so much in the founding of our country is an unbelievable sign of disrespect…You look at a guy who is a key member of America."
No chance Bee was going to let that nonsense fly:
"I hate to break it to you, sparky, but Jackson wasn't involved in the founding of our country because the revolutionary war happened before Old Hickory's pubes came in. He was not a founding father. He was a genocidal prick who forced the relocation of nonwhites and fomented populist rebellion. Kind of like a [Donald] Trump with better hair."
Bee is right. Jackson was 8 years old when the American Revolution began. He had no significant role in the founding of the country.
Instead, Jackson's role in history, as my colleague Dylan Matthews pointed out, was acting as a "slaver, ethnic cleanser, and tyrant" who forced Native Americans out of their land, pushed for the expansion of slave states, and as a general temporarily abolished constitutional rights during the War of 1812 — even locking up a state legislator who resisted Jackson's attempts at instituting martial law.
Bee also skewered conservatives who suggested creating a separate denomination for Tubman. Like creating a $12 dollar bill. Time for the math: 12/ 20 = what? Bee breaks it down: "Yeah, that would be something. Make the black person worth exactly 3/5 of the white person's value."
Watch, below.