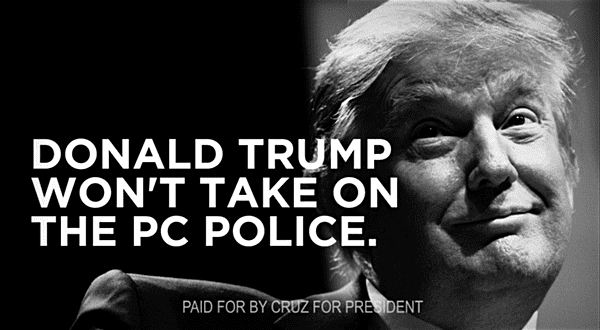 No doubt seeing a way to out-fear-monger Donald Trump and pander to the anti-LGBT wing of the Republican party, Ted Cruz has released a new official ad attacking Donald Trump for opposing North Carolina's discriminatory bathroom bill, HB 2.
During an NBC Town Hall on Thursday, Trump said that people should be able to "use the bathroom that they feel is appropriate."
Cruz seized on those remarks almost immediately, asking a crowd at a rally in Maryland just hours later, "Have we gone stark raving nuts?"
That was followed up with an ad released late Thursday called "Appropriate", in which Cruz regurgitates the patently false and dangerous trans predator bathroom myth.
In the ad, title cards appear over black and white images of public bathrooms. They ominously ask,
"Should a grown man pretending to be a woman be allowed to use the women's restroom? The same restroom used by your daughter? And your wife? Donald Trump thinks so. It's not appropriate and it's not safe. It's PC nonsense that's destroying America. Donald Trump won't take on the PC police. He's one of them."
Watch the ad, below.