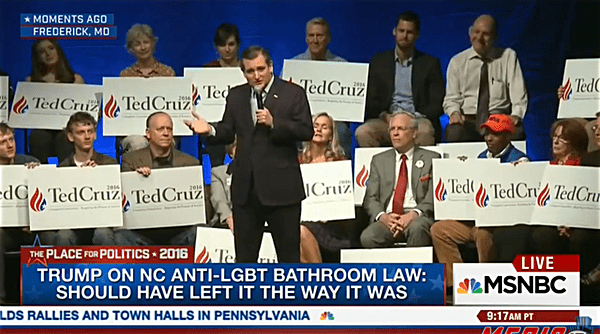 Ted Cruz blasted Donald Trump on Thursday for making comments critical of North Carolina's anti-LGBT 'bathroom bill', HB 2.
During an NBC News Town Hall this morning, Trump said, 
North Carolina did something that was very strong, and they are paying a big price and there's a lot of problems. One of the best answers I heard was from a commentator yesterday, saying 'leave it the way it is. There have been very few problems.'
Speaking at a campaign rally in Maryland, Cruz suggested that Trump's comments were evidence that the country had gone "stark raving nuts."
"Donald agreed with Hillary Clinton and Barack Obama in attacking the state of North Carolina for passing their bathroom ordinance," he said. "And Donald on television this morning said gosh he thought men should be able to go into the girls bathroom if they want to. Now let me ask you: have we gone stark raving nuts?"
https://www.youtube.com/watch?v=e-kAdNR6SY4
Earlier in the day, Cruz appeared on Glenn Beck's radio show in which he declared the country has "gone off the deep end."
In defending anti-LGBT bathroom bills such as North Carolina's HB 2, Cruz asserted that "heterosexual perverts" are the real problem and that supporters of such bills are not transphobic.
Said Cruz,
"You've got the Obama Education Department suing to try to force junior highs to let teenage boys shower with teenage girls. That's crazy. It's just — that's not a reasonable position. It is simply crazy and the idea that grown men would be allowed alone in a bathroom with little girls — you don't need to be a behavioral psychologist to realize bad things can happen and any prudent person wouldn't allow that, and it is only the lunacy of political correctness — ESPN fired Curt Schilling for making the rather obvious point that we shouldn't allow grown adult-men strangers alone in a bathroom with little girls — that's a point anyone who is rational should understand."
Listen to Ted Cruz talk with Glenn Beck, below.