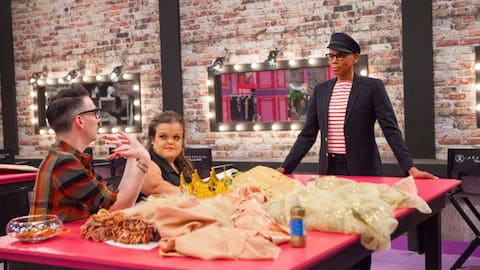 Last night's RuPaul's Drag Race felt more like RuPaul's Roadshow. The remaining seven queens took a journey to the wonderful world of Oz, but first they stopped at the library.
Yes, hennies, the library was opened for the annual reading mini-challenge.
Find out what happened when Drag Race went somewhere over the reading rainbow in our recap, below.
Was there any doubt that Bob would slay the reading challenge? Her read on Robbie Turner ("I know you're a huge fan of classic movies and television. May I recommend one of my favorite classic TV shows? ::rubs top teeth:: Flipper") was so well-constructed and expertly delivered, anyone could see her win coming a mile away. (Logo posted the rest of the reads online, if you want to see some more expert Drag Race takedowns.)
For the main challenge, the queens were paired with cast members from Little Women LA, a show I've watched exactly one time to see a ridiculous reality show brawl between Christy (Robbie's partner) and Terra (Derrick's). They needed to create matching looks inspired by The Wizard of Oz for the runway. (There was also a bizarre and totally unnecessary aspect of the challenge that involves interpretive dance, but we spend more time with the queens trying to figure out what that means than we actually do seeing them perform.)
Joining the judging panel was Toddrick Hall (a panelist on RuPaul's new game show, Gay For Play) and fashion designer/Grindr enthusiast Marc Jacobs.
Here are our rankings: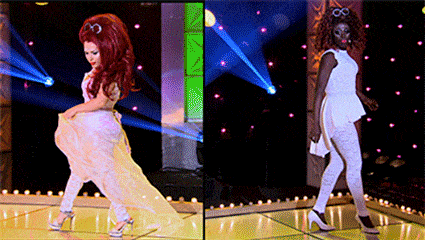 1. Sure Bob stumbled a bit this week, but not enough to lose her top spot. Her reads were easily the sharpest. They were specific, leveraged wordplay and displayed a command of pop culture references — just exemplary Drag Race humor. While her time management was off during the main challenge, I'm actually impressed with how she pulled it all together in that short amount of time at the end. Making sure her partner still looked sickening seemed selfless on Bob's part, and a tiny hiccup here disrupts Bob's domination narrative.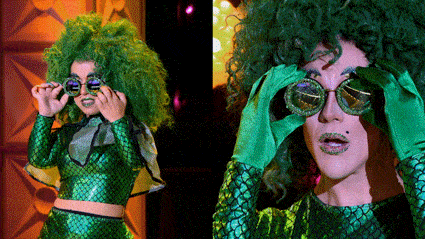 2. Thorgy's bitterness over Bob's success isn't exactly a cute look, but I think that's all in the edit. She just seems too sweet otherwise. I enjoyed her Emerald Citizen look more than the judges did, though her reads were all a little flaccid. She's been the most consistent queen this season, but I'm still waiting for her to have a moment that really steals the show.
3. Speaking of moments, Kim Chi has one whenever she steps on the runway. She's a visionary artist, but she's so limited in her performance abilities. She'll likely stick through to the top 3, but an acting/dancing heavy challenge could end up sending her home ahead of her time (henceforth known as the Acid Betty Effect).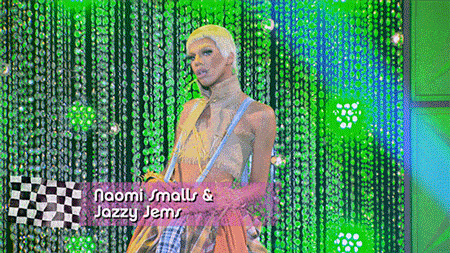 4. Don't call it a comeback, but Naomi Smalls reasserted herself this week with high-fashion scarecrow realness. (Though technically, while she wasn't in underwear, she was in barely more than underwear this week.) Plus, I love a girl that gets her fashion fix reading magazines at Barnes & Noble. I've been really back and forth with Naomi and Chi Chi these last few weeks, but Naomi seems to have been motivated by struggle, while Chi Chi seems worn down by the competition.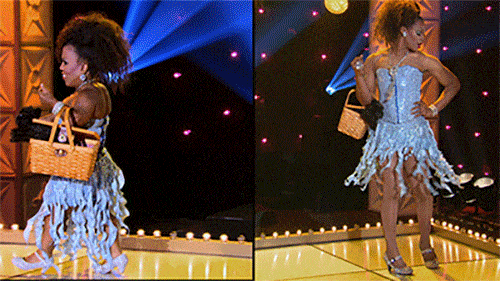 5. Could we get Chi Chi and Tonya a podcast? If only she took Tonya's advice to heart and transformed her insecurities into some drive. Not spending every second perfecting a challenge is such a basic reality competition faux pas, it's right up there with telling judges you're not sure if you want to be here. The competition seems to be too taxing for Chi Chi, and she's losing the effervescent charm she arrived with.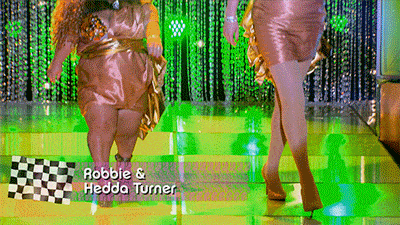 6. Robbie, Robbie, Robbie. I was done with Ms. Turner the second that wig came off. It's an automatic eye-roll from me (henceforth known as the Milan Effect). I've already established my feelings on Derrick, but her problematic behavior aside, Robbie's ugly runway look at least took some work. I understand the judges' decision, but I still don't like it.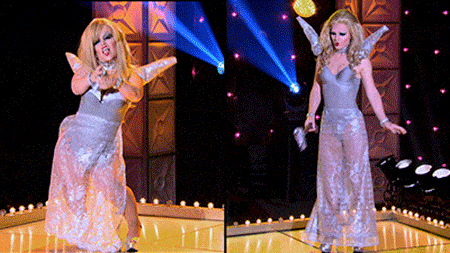 7. Go home, Derrick. Go home, go home, go home. Not only was that runway look INSANE in how awful it was, the makeup honestly looked like it was done by a literal toddler. You put that ensemble side-by-side with Robbie's, and it's no contest. Maybe Derrick was saved by the lip sync, but it didn't seem like that definitive of a win to me. Certainly not enough to compensate for her lack of skills. Derrick Barry is the best justification for what happens in Vegas needing to stay in Vegas.
How would you rank the queens this week?
You can watch last night's FULL EPISODE of Drag Race, 'Wizards of Drag', HERE.