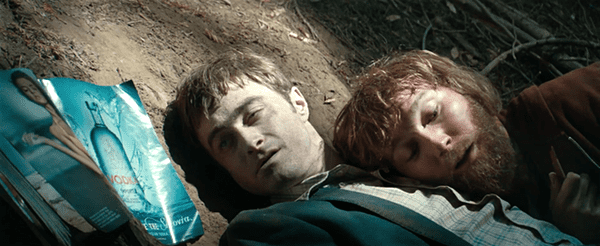 A new trailer for Swiss Army Man, often described as the 'Daniel Radcliffe farting corpse movie', has just been released giving a look at what set so many tongues a wagging at last year's Sundance Film Festival.
The movie follows Paul Dano who discovers a corpse floating in the ocean just as he's about to commit suicide. The corpse (Radcliffe) possesses some sort of magical powers of reanimation and, as it turns out, his boner acts as a compass that can help guide Dano home.
Radcliffe's farting corpse made headlines at Sundance, turning this under-the-radar feature from first-time directors Daniel Kwan and Daniel Scheinert (of Lil Jon's "Turn Down for What" video) into one of the most talked-about movies at the fest. Not all of the responses were positive — the film reportedly saw plenty of walkouts in its world premiere screening — but it won over plenty of fans, too, myself included.
Watch the possibly work-unfriendly trailer, below.
And check out the poster art, below.