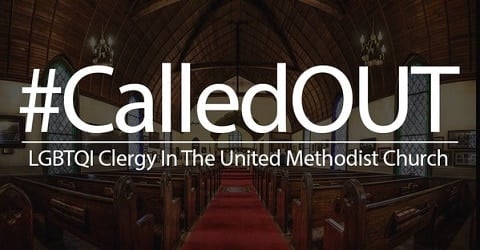 Dozens of United Methodist clergy members came out as gay or bisexual on Monday in reaction to the church's ban on "self-avowed practicing homosexuals" serving in ministry.
A letter sent by the LGB clergy was also signed by intersex and transgender pastors, who are not technically excluded from ministry.
In the public letter posted online, 111 pastors, deacons, elders and candidates for ministry said church rules require "that we not bring our full selves to ministry, that we hide from view our sexual orientations and gender identities." The letter essentially dares their supervisors to discipline them.
111 LGBTQI clergy say, "you cannot legislate God's call." #UMCGC #ItsTime #CalledOUT pic.twitter.com/A9c6xAuYjT

— RMNetwork (@rmnetwork) May 9, 2016
According to CNN, the letter also states:
"While some of us have been lucky to serve in places where we could serve honestly and openly, there are others in places far more hostile, who continue to serve faithfully even at tremendous cost to themselves, their families, and yes, even the communities they serve, who do not receive the fullness of their pastor's gifts because a core part must remain hidden."
A spokesman for Reconciling Ministries Network (RNN), an LGBT advocacy group that organized the letter, said that around 80% of the 111 signatories are coming out to their supervisors for the first time.
The #CalledOut hashtag caused RMN's servers to crash yesterday.
The letter was issued just before the United Methodist Church's quadrennial General Conference, which began in Portland, Oregon yesterday. Conference delegates are expected to debate changes to church policy, including the possibility of lifting bans on LGBT ministers and same-sex marriages.
The RMN website is up and running again! Our server has been upgraded after #CalledOUT 111 broke the internet. 😉 pic.twitter.com/m0hj02t565

— RMNetwork (@rmnetwork) May 11, 2016
Watch a PBS report on homosexuality and the United Methodist Church below.