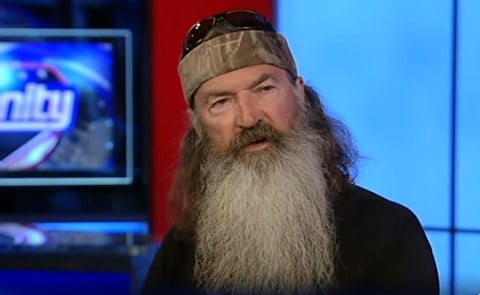 Duck Dynasty head honcho Phil Robertson has teamed up with Citizens United to attack – and make money from – anti-trans "bathroom laws" in North Carolina and other states.
Citizens United is best known for its part in a Supreme Court ruling which held that the government could not restrict political expenditures by nonprofit corporations.
In an email sent to supporters last weekend, Robertson wrote that "the Judeo-Christian values that led America to greatness are under full assault by the mob mentality of political correctness, and we're slowly losing our soul."
"Men," Robertson continued, "should use the men's bathroom and women should use the women's bathroom. Just because a man may 'feel' like a woman doesn't mean he should be able to share a bathroom with my daughter, or yours. That used to be called common sense. Now it's called bigoted."
According to the Hollywood Reporter, the email includes a link to StandTallWithPhil.org, which asks for donations to Citizen United's Speak Freely effort in conjunction with Robertson.
Back in February, Robertson called same-sex marriage "evil, wicked, sinful" at a Ted Cruz rally in Iowa.
Watch Robertson at the Cruz rally below.
https://www.youtube.com/watch?v=JGVHlCMUFHU&feature=youtu.be