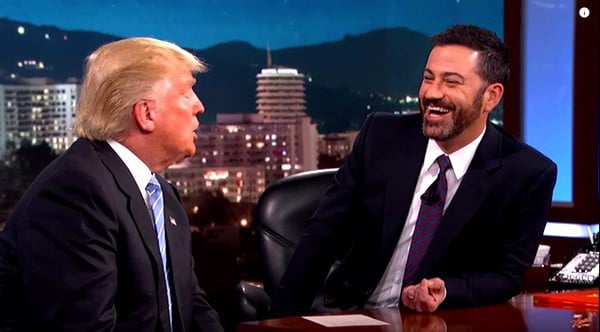 Donald Trump appeared on Jimmy Kimmel Live last night and Kimmel tried desperately to get him to commit to a personal answer on the transgender bathroom issue but Trump wouldn't budge, repeating the refrain "let the states decide."
Here's how it went down. Folks (including Kimmel) actually laughed at his inability to give a real answer:
Kimmel: If you were voting personally as a member in New York state that you would vote for that right?
Trump: Well the party generally believes that whatever you're born that's the bathroom you use.
Kimmel: But what about you?
Trump: Me? I say let the state's decide.
Kimmel: Do you personally support it? I think you do.
Trump: What I support is let the states decide and I think the states will do, hopefully, the right thing.
Kimmel: And what's the right thing?
Trump: I don't know yet. I mean, I don't know. Honestly, I don't know. (audience laughs)
Kimmel: It's the stupidest thing to be focused on.
Trump: The world is blowing apart. Lots of bad things are happening. You know what? It's something that has to be discussed, but I say, let the states decide.
Kimmel: Alright, I'll give you an N/A on that one.
Watch:
https://www.youtube.com/watch?v=Gal-QReSdy4
Trump seemed to have a pretty strong opinion, however, on April 21 when he was asked about the issue on Good Morning America and said, when asked about HB2:
"I had a feeling that question was going to come up. North Carolina did something that was very strong, and they are paying a big price and there's a lot of problems. One of the best answers I heard was from a commentator yesterday, saying 'leave it the way it is. There have been very few problems.' North Carolina, what they are going through with all of the business that's leaving and the strife– and that's on both sides. You leave it the way it is. There have been very few complaints they way it is. People go, they use the bathroom that they feel is appropriate, there has been so little trouble, and the problem with what happened in North Carolina is the strife and the economic punishment they're taking."
Since he has become the presumptive nominee however, his efforts to court conservative Republicans and the GOP establishment appear to have moved him into 'know nothing' mode.
In recent days he has said transgender people must be protected but that he would rescind Obama's directive to schools on transgender bathrooms. He also said he's against the "expensive" proposition of creating gender-neutral bathroom facilities.