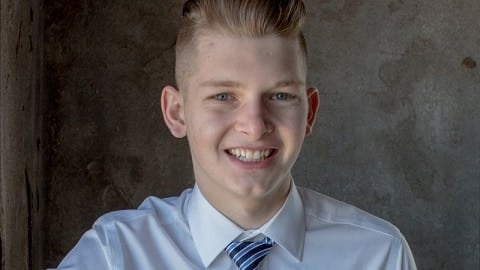 A Des Moines Catholic High School has been accused of changing official policies to ensure that a gay student will not be presented with the Eychaner Foundation's Matthew Shepard Scholarship at the annual senior awards ceremony.
Liam Jameson has been a leader at Dowling Catholic School, starting a gay-straight alliance there and organizing a walkout when the school fired a gay teacher.
However, school administrators at the West Des Moines school have told Jameson he cannot receive the scholarship at the ceremony which is due to be held this Thursday.

In a letter asking the school to review the decision, Jameson wrote:
"I tried killing myself, more than once, stopping each time before I could get any further. I dreaded having to go to school the next day. I felt alone and afraid, just hoping for someone to notice me. I wondered what my life would be like. Would this equate to what the rest of my life would be like? Would I be alone? Do I even matter? I asked myself these questions every day, longing to know what the universe had in store for me.
"I vowed that no one should have to go through the experiences that I have, whether they are LGBT or not. So I decided that I would make an example of myself. I would be the person that I wished was there when I needed them the most . . . having a safe environment for LGBT students where they don't feel the need to self-harm or commit suicide. When talking to other students, many of them don't feel safe in their school environment, and that is unacceptable. On average, almost 40% of LGBT youth try to commit suicide, and it is the third leading cause of death in people age 15 to 25."
According to the Eychaner Foundation, a statement released by Dowling Catholic misrepresents the efforts the school has gone to in dishonoring the Matthew Shepard Scholarship. The foundation claims that the scholarship was presented at the school in 2014 but since then Dowling has "tightened their policy to specifically target the Matthew Shepard Scholarship by writing in 'rules' that the school could deny the student's choice of scholarships that were publicly read under criteria that targeted our scholarship."
"Despite Dowling's written statement that all students are treated the same, Dowling does individually recognize 'scholarships and awards that are sponsored by Dowling Catholic High School, alumni, or the state athletic association.'
"This year's Matthew Shepard Scholarship award to Liam Jameson is sponsored by Dowling Alumni, which meets that criteria.
"After Principal Meendering became aware that Liam intended to apply for Iowa's Matthew Shepard Scholarship Program the policy was revised to state 'The scholastic achievement ceremony will have all presentations made by Dowling Catholic faculty and/or administration only. Each student will be allowed to select two scholarships they have been awarded to be acknowledged at the ceremony. Students may choose to accept any award; however Dowling Catholic High School reserves the right to not acknowledge any award.'"
Jameson and the Eychaner Foundation have posted a Change.org petition asking the school to allow Jameson to accept the scholarship at the awards ceremony, just like every other senior.
Watch Jameson talk about the role of gay teachers below.
(Image via Change.org)