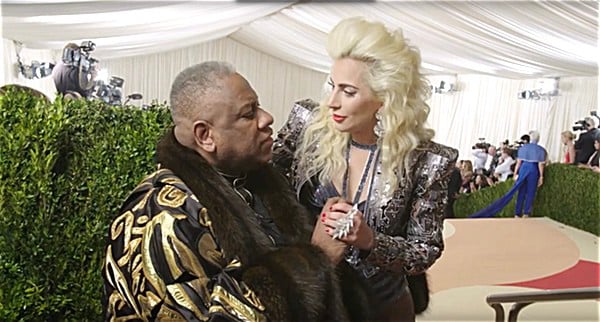 The Metropolitan Museum of Art Costume Benefit aka The Met Gala or "the party of the year" in New York City took place last night and the hosts were chairwoman Anna Wintour, Apple design chief Jony Ive, Taylor Swift, and Idris Elba.
The theme was Manus x Machina: Fashion in an Age of Technology, which is the name of the annual blockbuster costume show the party coincides with at the Met. Tickets are $30,000 each, much of it covered by corporate sponsors.
Below are all the interviews Vogue's Andre Leon Talley did on the red carpet including Sarah Jessica Parker and Andy Cohen, Lady Gaga, Nicki Minaj and Jeremy Scott, James Corden, Zendaya and Michael Kors, Kim Kardashian and Kanye West, Katy Perry, Lupita Nyong'o, Naomi Campbell, Gigi Hadid, Chloe Sevigny, Met Director Thomas P. Campbell, Bella Hadid, Nicole Kidman and Keith Urban, Amy Schumer, Jennifer Hudson, Jaden and Willow Smith, Kendall Jenner, Kylie Jenner, Tom Ford, Trevor Noah, Alicia Vikander, Selena Gomez, Taylor Swift, Juno Temple, Wiz Khalifa, Aziz Ansari, La La and Carmelo Anthony, and Idris Elba.
Who wore it best?