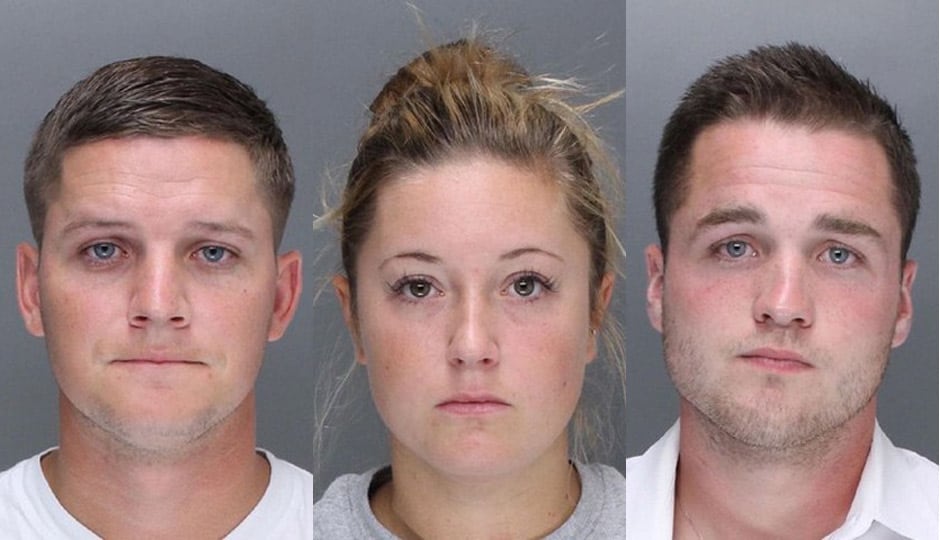 Zachary Hesse and Andrew Haught, the victims of the September 2014 gay bashing in Philadelphia Center City have filed a civil lawsuit against Kevin Harrigan, Kathryn Knott, and Philip Williams, who were charged in the attack.
Haught was rendered unconscious and transported to Hahnemann University Hospital where emergency surgery was performed. He stayed in the hospital for five days after the attack. The lawsuit states that Haught suffered a fractured jaw bone and orbital bone, and permanent facial scarring, in addition to other injuries. His jaw was wired shut for eight weeks.
Hesse's injuries were less severe but still significant. They included cuts and bruising on his face and body. Both men also suffered psychological injury, emotional distress, and embarrassment, according to the suit. The lawsuit states that the attackers had no justification for their actions.
The suit, filed by the prominent Center City law firm Kline & Specter, seeks unspecified damages. Neither the plaintiffs' attorneys nor the defendants were immediately available for comment.
Harrigan and Williams pleaded guilty to simple assault and conspiracy in a plea deal and did not face jail time. They were sentenced to probation and ordered to stay out of Center City.
Knott refused the plea deal and is currently serving a prison sentence. Earlier this year Knott requested that she be allowed to record a PSA instead of serving the five-to-10 month prison sentence she received. A judge rejected that request. Knott did not appeal the judge's ruling.
Knott is currently the subject of another lawsuit.
Kathleen O'Donnell of Norristown, Pennsylvania, a staffer at a consultant firm who created a blog to write about Knott and the homophobic mob attack and used the pen name 'Knotty is a Tramp', was fired from her job after Bucks County district attorney detectives came to question her about the website at Walker Parking Consultants, where she worked in August 2015.
O'Donnell is suing Knott, her father Karl Knott (then-police chief of Chalfont, Bucks County), Bucks County, Bucks County District Attorney David Heckler and the two detectives Martin McDonough and Mark Zielinski, saying her free speech rights were violated. She seeks more than $150,000 in compensatory damages and more than $5 million in punitive damages.