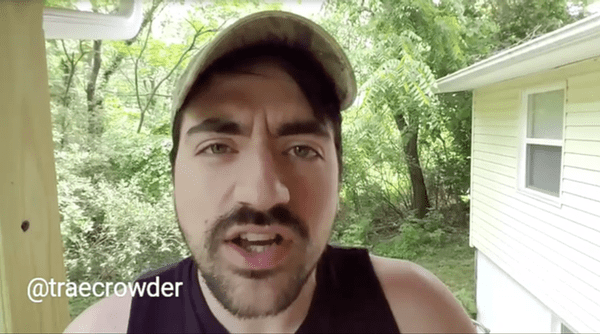 Your favorite liberal redneck, Trae Crowder, is back to lay down some truths that anti-LGBT 'Christians' upset about Target's pro-LGBT bathroom policy might not want to hear.
As we've been reporting, bible-wielding anti-LGBT activists have been harassing Target stores as of late, shouting in the aisles that the company is wicked for affording transgender people the right to use whatever bathroom corresponds with their gender identity.
Crowder has previously addressed anti-LGBT bathroom bills. But as he says, "People just can't let this whole potty thing go."
Addressing a video we posted over the weekend showing a mom of 12 "Hollering about the devil raping babies", Crowder jokes, "Honestly I cant even blame that lady for being crazier than Michelle Bachman on bath salts. 12! Fake Lord have mercy! That's a lot of trailer babies!"
He then goes through a litany of arguments often put forth by such bigots, including, 'Does standing up for my beliefs make me a bigot?' "If what you believe is a bunch of whacky bigoty sh*t, then yeah, it totally does!," says Crowder.
Some other great one-liners from the video:
"Believing in something super hard don't make it any less wrong."
"You cant expect people to respect your beliefs when your beliefs are so completely disrespectful."
"Telling other people how to live is actually not a right you have."
Watch, below.