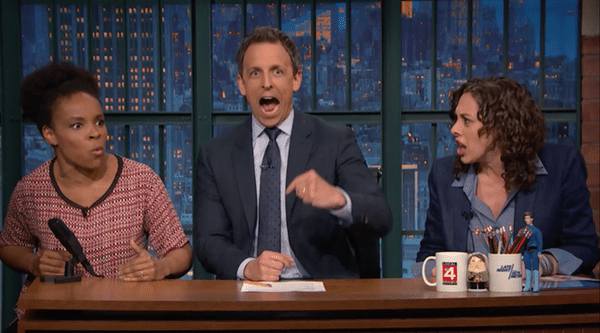 On Late Night, Seth Meyers revealed that there are some jokes–no matter how funny–that he doesn't feel comfortable telling.
"Every night I deliver jokes written by a diverse team of writers. As a result a lot of jokes come across my desk that due to my being a straight white male would be difficult for me to deliver," he said. But being that he doesn't want audience members to miss out on those jokes, he decided to invite two staff writers (one black woman, one lesbian) to tell "Jokes Seth Can't Tell."
As you might expect, the jokes are pretty great. Like this one: "A lesbian Pennsylvania high school student was recently thrown out of her prom for wearing a suit. Even worse, they threw her out under hand."
One of the best moments had to be when Seth squealed in delight at a lesbian-centric joke involving "eating out."
Which also led to this.
But when Seth tried to get in on the fun…it kind of backfired.
Find out why Seth said black women and lesbians are liars, below.