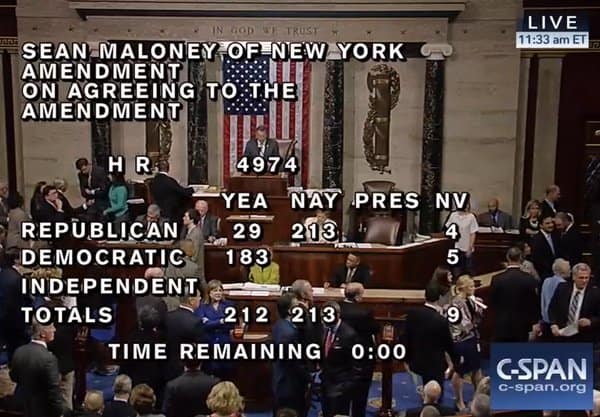 In a chaotic floor vote in the U.S. House of Representatives, an amendment to a defense authorization bill that would have blocked funding to anti-LGBT government contractors was rejected after a last minute rally from Republicans.
The amendment was put forth by openly gay Congressman Sean Patrick Maloney. Maloney initially had the votes to pass the measure until Republicans made a last ditch effort to block it, which they did narrowly by one vote.
Maloney's amendment would have voided a provision in the defense authorization bill passed Wednesday by Republicans which provides broad "religious freedom" exemptions for religious and religiously affiliated organizations that receive federal contracts. Those exemptions can be used to discriminate against LGBT people.
Maloney's amendment also would have blocked funding from going to any company that would not comply with President Obama's executive order banning discrimination among federal contractors against LGBT workers.
GOP leaders held the vote open as they pressured members to change sides. Infuriating Democrats, they let lawmakers switch their votes without coming to the House floor.
"Shame! Shame! Shame!" Democrats chanted as they watched the vote tally go from passage of Maloney's amendment to narrow failure.
Twenty-nine Republicans voted for Maloney's amendment to a spending bill for the Department of Veterans Affairs and military construction projects, along with all Democrats in the final roll call.
"This is one of the ugliest episodes I've experienced in my three-plus years as a member of this House," Maloney, who is openly gay, said while offering his amendment.
Here's the before and after votes on striking anti-LGBT language from NDAA. They had it til some GOPers flipped. pic.twitter.com/yokSeFsyOO

— Jennifer Bendery (@jbendery) May 19, 2016
House Democrats took to Twitter following the defeat to express furor over Republican intransigence against LGBT rights.
https://twitter.com/RepMurphyFL/status/733337428040241152
#TBT to when @RepSeanMaloney's amdt had the votes, until @HouseGOP abused regular order to ensure discrimination. https://t.co/krz86D4gQe

— Nancy Pelosi (@SpeakerPelosi) May 19, 2016
Republican Speaker of the House Paul Ryan denied knowing whether his team pressured House Republicans to switch their votes. "I don't know the answer. I don't even know," Ryan said. He then defended the provision that Maloney was trying to gut: "This is federalism; the states should do this. The federal government shouldn't stick its nose in its business."
When Maloney confronted Majority Leader Kevin McCarthy (R-CA) aout the vote reversals, McCarthy reportedly told Maloney, "Get back on your own side of the aisle." To which Maloney responded, "What side of the aisle am I supposed to stand on to support equality?"
Watch video of House Democrats chanting "Shame!" at House Republicans.
House Democrats shout "shame" at Republican colleagues after a vote on an LGBT amendment https://t.co/JvMdaKSypk

— POLITICO (@politico) May 19, 2016
The Republican Empire Strikes Back to Allow Discrimination Against LGBT Americanshttps://t.co/bZmGhIPNDA

— Steny Hoyer (@LeaderHoyer) May 19, 2016
Maloney was quick to condemn the Republicans who switched sides.
Discrimination is un-American. GOP went out of their way to support discrimination. SHAME

— Sean Patrick Maloney (@RepSeanMaloney) May 19, 2016
My amdt was simple – prevent fed tax $ from supporting businesses that discriminate. GOP supported hate very blatantly. SHAME

— Sean Patrick Maloney (@RepSeanMaloney) May 19, 2016
Every single Republican who voted against my amendment should be ashamed of themselves. Your children will remember your hate.

— Sean Patrick Maloney (@RepSeanMaloney) May 19, 2016
My colleagues just voted to support discrimination – they are hateful. SHAME.

— Sean Patrick Maloney (@RepSeanMaloney) May 19, 2016
Watch Maloney's speech on the House floor here:
Democratic Whip Steny Hoyer also blasted the GOP representatives who switched their votes.
Dayum. Hoyer just name-checked the GOPers who flipped votes on the LGBT amendment: Denham, Walden, Walters, Young, Issa, Poliquin, Valadeo

— Jennifer Bendery (@jbendery) May 19, 2016
Hoyer was also reportedly furious that Republican House members were allowed to change their votes without entering the chamber, thus having to face the chorus of Democratic members chanting at them.
"How can the vote change when no one comes to the well to change their vote?" Hoyer asks parliamentarian.

— Jennifer Bendery (@jbendery) May 19, 2016
Hoyer had this to say in a statement: 
"Today, House Republicans defeated an amendment by Rep. Sean Patrick Maloney that would ensure that federal contractors cannot discriminate against LGBT employees.  Several Republican Members initially cast votes in favor of Rep. Maloney's amendment but shamefully changed their votes after it was clear the amendment would pass, leading the amendment to fail by just a single vote.  Not only did they vote against equality and inclusion, but those who switched their votes did not even have the courage to do so openly in the well of the House.  They did so quietly from the back benches, contrary to established practice that requires vote-switching to be done in person at the Clerk's desk, and House Republican leaders held a two-minute vote open for nearly eight minutes.
"But the action they hoped would slip quietly under the radar will instead surely be heard loudly and clearly across the nation as a rallying cry to all who cherish equality, justice, and civil rights – that those who stand against the full inclusion and protection of LGBT individuals and their families ought to be called out and held accountable.  House Democrats will continue to hold them accountable for their anti-LGBT record and their actions as long as it takes to ensure that the words of our Declaration ring true across this land:  that all 'are created equal, that they are endowed by their creator with certain unalienable rights, that among these are life, liberty, and the pursuit of happiness.'"
Not only did GOP vote against #equality but those who switched votes didnt have courage to do so openly https://t.co/8f4PkUnfX4 #LGBT

— Steny Hoyer (@LeaderHoyer) May 19, 2016
The Human Rights Campaign has also confirmed the 7 Republican congressmen who switched their votes:
Shame on @RepPoliquin @RepGregWalden @RepMimiWalters @RepDavidYoung https://t.co/25QQJ9nbMJ pic.twitter.com/ZU5fqg3Hqv

— Human Rights Campaign (@HRC) May 19, 2016