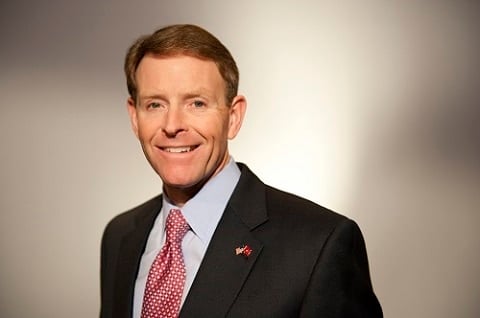 ABC dropped Tony Perkins, the leader of hate group the Family Research Council (FRC), from a This Week discussion about the massacre in Orlando.
Perkins has been a staunch opponent of LGBT rights and has used his demand for "religious freedom" to push his supposedly Christian agenda. He has backed ex-gay therapy, claimed that gay rights signal the onslaught of a Christian holocaust and suggested that the "high risk behavior" of gay men would ruin Obamacare. In 2014, FRC used the death of Robin Williams to promote ex-gay therapy. In response to the Orlando massacre, the organization announced "It's a little ridiculous to suggest that disagreement over special rights for people who identify as LGBT are responsible, since even the gunman's ex-wife alleges he was gay."
@MSNBC should be deeply ashamed for inviting Tony Perkins on as a rep of Christianity. He leads a hate group. #notalllikethat

— katie m ladd (@katiemladd) June 20, 2016
Do you find that "disagreement" has been redefined as "intolerance?" Is there any room to "agree to disagree" on difficult issues?

— Tony Perkins (@tperkins) June 16, 2016
While uncomfortable, Paul didn't regret confronting immorality. It prompted sorrow, producing repentance, leading to salvation. 2 Cor 7:8-10

— Tony Perkins (@tperkins) June 10, 2016

Perkins was set to appear yesterday on This Week's "Powerhouse Roundtable" but was quietly dropped by ABC following criticism from groups including Faithful America, a Christian group aiming to "challenge [religious right] extremism and renew the church's prophetic role in building a more free and just society."
I commend Gov. @PatMcCroryNC for his political courage and moral clarity in resisting the Obama administration. pic.twitter.com/Ctlgaljrsc

— Tony Perkins (@tperkins) May 9, 2016
Is this really who @ABC and @GStephanopoulos want on the network when talking about #Orlando? https://t.co/wFc5ZQoIgW @aravosis: bad choice!

— Kyle Franklin (@KAFranklin07) June 17, 2016
Faithful America launched a petition urging ABC to remove Perkins, noting that he "has repeatedly accused gay men of molesting children, causing the Southern Poverty Law Center to formally designate FRC as a hate group."
Think Progress noted that transgender Christian author Laura Bethany Taylor wrote an open letter attacking ABC and host George Stephanopoulos for offering Perkins a platform.
@ABC over 20k Christians are telling you that Tony Perkins doesn't speak for them. Do the right thing. #NOH8

— 🟣LauraMarieMusic (@lauramariemusic) June 18, 2016
"How tolerant would the national media be of a KKK leader speaking on a massacre of African Americans?" she wrote. "What sort of outcry would we hear if anti-military pacifists were given center stage on Veteran's Day or Memorial Day as we seek to honor our service men and women?"
ABC has not as yet confirmed why Perkins was dropped from the panel discussion. Perkins managed to book an appearance on MSNBC on Sunday to discuss the evangelical response to Donald Trump.
Watch Perkins explain how Christians are being forced into "spiritual ghettos" below.
https://www.youtube.com/watch?v=lrPtz4-Ag0A