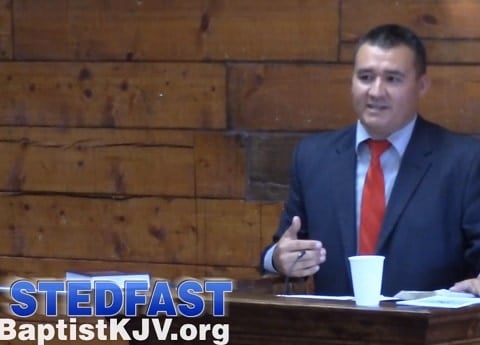 It's not easy to outdo the likes of Tony Perkins and Kevin Swanson in the great game of religion as an excuse for homophobia but Texas minister Donnie Romero may just have won gold.
Romero of Stedfast Baptist Church, Fort Worth has taken what is probably the next logical step following Swanson's call for death to all LGBT people by expressing the heartfelt hope that the survivors of the Orlando massacre will die in hospital.
Hate mongering beyond belief spouted by pastor Donnie Romero of Stedfast Baptist Church.

— Laurie Mayer (@LaurieMayer) June 21, 2016
In his sermon last Sunday, Romero had this to say:
"These 50 sodomites are all perverts and pedophiles, and they are the scum of the earth, and the earth is a little bit better place now.
And I'll take it a step further, because I heard on the news today, that there are still several dozen of these queers in ICU and intensive care. And I will pray to God like I did this morning, I will do it tonight, I'll pray that God will finish the job that that man started, and he will end their life, and by tomorrow morning they will all be burning in hell, just like the rest of them, so that they don't get any more opportunity to go out and hurt little children."
In 2014, Romero said that all gay people are "pedophiles [who are] always trying to rape and hurt other people. They're relentless. They are relentless. They are predators and given an opportunity to snatch one of your children, they would do it in a heartbeat."
https://twitter.com/WarAgainstWomen/status/745046218317791232
You probably thought you'd heard it all before but listen to Romero's sermon below and realize you can still be shocked by the utter, joyous hatred of these people.
https://www.youtube.com/watch?v=lqW1MsAQ_nA&feature=youtu.be