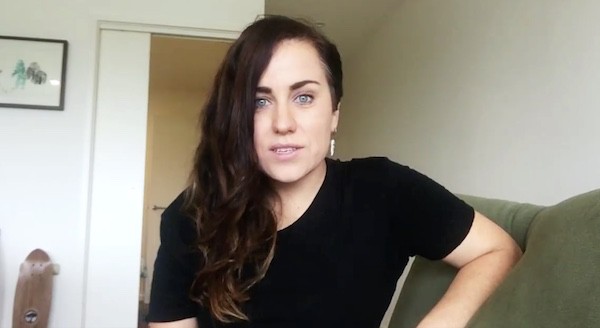 Lucy Thomas (above), the CEO of the anti-bullying organization Project Rockit, was riding in an Uber in Melbourne with girlfriend Chelsea Lang, when they found themselves the target of a homophobic driver.
The Sydney Morning Herald reports:
The driver, whom they know only as John, said he "hated" football because the players were "a bunch of faggots touching each other", according to Thomas."He went on a bit of a rant; he was cheery and jovial but he was using really offensive language," she says.
Thomas told John she was offended by his words, which she says also included "Abo", "spastic", "retard" and "a six letter word with two Gs".
"He was saying it's okay for him to use that word ['Abo'] because he has Aboriginal blood," Thomas says.
John asked if the couple was gay. When Thomas' girlfriend answered "yes", "that's when he really changed", Thomas says.
"He stopped being cheery and a cloud came over him. He was very aggressive and the tone changed."
She recorded what followed next on her smartphone.
Listen:
After being threatened by our @uber driver, my girlfriend and I stood up to him and recorded it. LISTEN: https://t.co/5IIdpBLSHJ #homophobia

— Lucy Thomas OAM 🌈 (@lucylockit_) June 5, 2016
Thomas said she was terrified after getting out of the cab and though Uber fired the driver, she remains fearful for her personal safety since the driver knows her address.