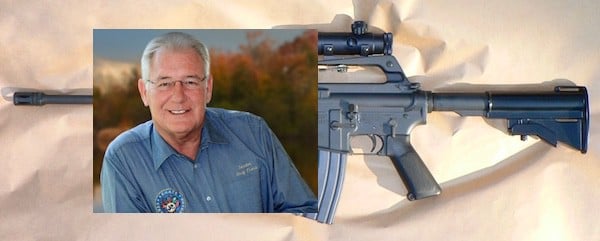 Greg Evers, who is running for Congress in one of Florida's most conservative districts, today announced he's giving away an AR-15 rifle, the same kind used in the Orlando massacre which killed 49 people and injured 53 others, to a random person over 18 years old who shares or likes his Facebook page.
U.S. Congressional Candidate Greg Evers today announced a Facebook contest to award a custom-built AR-15 rifle to one randomly chosen resident of the 1st Congressional District who has liked and shared his Greg Evers for Congress Facebook page. The winner will be chosen on July 4th, and the rifle will be awarded after verification that the contestant meets strict eligibility requirements, including all required background and security checks.
"With terrorism incidents on the rise, both at home and abroad, protecting our constitutional rights has never been more important," Evers said. "With all that's happening in the world today, I've never felt stronger about the importance of the second amendment in protecting our homeland than I do now."
Evers is seeking the Republican nomination for Congress in the August 30th primary. For the past 14 straight years, he has earned an A+ rating from the National Rifle Association as a member of the Florida Legislature.
Evers' campaign announced the idea after a Tennessee state lawmaker was criticized for holding a similar giveaway that he had planned before the June 12 mass shootings at Pulse, a gay nightclub in Orlando where 49 people died and 53 were injured before police shot and killed the gunman who pledged allegiance to ISIS.
For 14 years, Evers has earned an A-plus rating from the NRA.
Evers has repeatedly tried to pass a law allowing concealed weapons permit holders to carry firearms on campus. Evers also passed the so-called "Pop Tart Law" — so named after a child was suspended from school for chewing the pastry into a gun shape — that prohibited schools from punishing kids for playing with simulated weapons. He also sponsored successful legislation that blocks lawmakers from siphoning money out of a trust fund established to regulate concealed weapons permits. And he was a sponsor of the so-called "Docs n' Glocks" bill that limited physicians from inquiring about firearms in the home. A challenge to the law, spearheaded by pediatricians, is scheduled to be heard Tuesday by the U.S. 11th Circuit Court of Appeals.