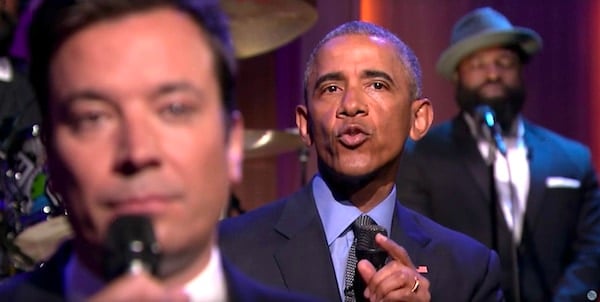 President Obama appeared on The Tonight Show for the first time since Jimmy Fallon took over as host and slow jammed the news for the first time since he did it with Fallon on The Late Show.
This time he talked about his legacy as Commander in Chief and brought in his marriage equality accomplishments:
"As President I'm proud of the many progressive steps our country has taken in recent years both socially and environmentally. The United States has been a leader in developing clean energy to ensure the health of our planet for future generations. Thanks to the Affordable Care Act, an additional 20 million Americans now have access to quality health care. And same-sex couples across the country now have a right to marry. In short, climate change is real, health care is affordable, and love is love."
Commander in Preach!
Watch the hilarious segment:
In another comedy bit, Obama and Fallon wrote 'Thank You' notes together.