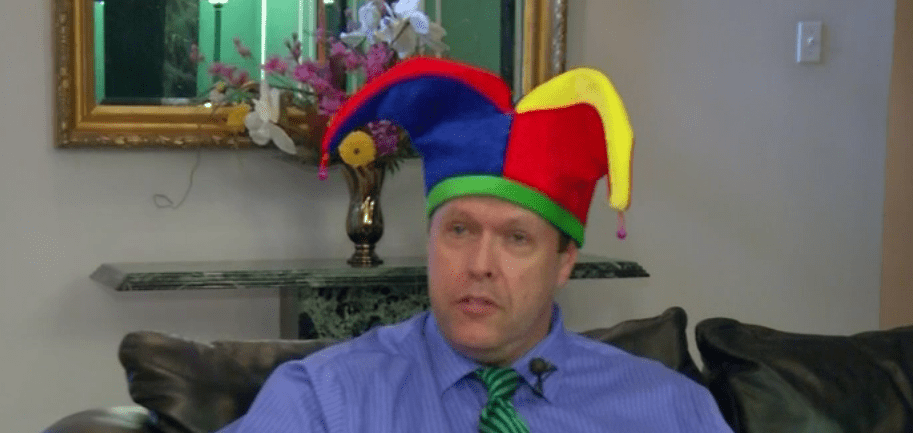 The Republican Party in Austin, Texas, voted Tuesday night to significantly limit the power of its controversial incoming chairman, who's made national headlines for his bizarre conspiracy theories and sexually explicit social media posts.
As we reported last month, Robert Morrow (shown above during a TV interview last week) has claimed that President George H.W. Bush is a "longtime homosexual pedophile," that former Secretary of State Hillary Clinton is "an angry bull dyke," and that former Texas. Gov. Rick Perry is "a rampaging bisexual adulterer."
Morrow also believes President George W. Bush and his senior adviser Karl Rove are both closeted homosexuals, pointing to the case of Jeff Gannon, the conservative columnist who covered the White House from 2003-05 and was later outed as a former gay escort. Morrow recently alleged on Twitter that Gannon was "plundering" Rove's "soft, pillowy ass," and he has even pledged to out closeted gay GOP lawmakers in Texas.
With Morrow set to become chair of the Travis County GOP next week, the party's executive committee approved the creation of an eight-member steering committee that will assume many of the duties typically held by the chairman, according to a report from The Texas Tribune:
"Those changes are fine with me because I want to facilitate the continued functioning of the Travis County Republican Party," Morrow said shortly before the meeting. "However, I will continue to hold the bully pulpit and continue to hold political criminals of both parties accountable." 
"They're going to be nice to me. I'm going to be nice to them," added Morrow, who did not attend the meeting. "We're going to keep the party running."
Before the committee voted on the proposals, party officials sought to convince members Morrow's chairmanship would not spell doom for the organization. Andy Hogue led members in chants of "We're bigger than that!" — the tagline of a new social media campaign — and T.J. Scott held a mirror up to the precinct chairs, arguing it is them — not people like Morrow — who are the face of the party. 
Although he didn't attend the meeting, Morrow was busy responding to the developments on Twitter:
https://twitter.com/RobMorroLiberty/status/740349743461588992
https://twitter.com/RobMorroLiberty/status/740381480212303872
https://twitter.com/RobMorroLiberty/status/740382279172689925
https://twitter.com/RobMorroLiberty/status/740382041590530048
https://twitter.com/RobMorroLiberty/status/740334143607693312