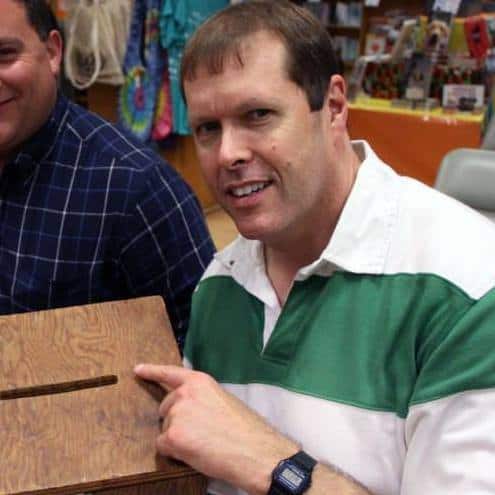 Austin is Texas' weirdest and most liberal city, so perhaps it's only fitting that Travis County's newly elected GOP chair is completely insane.
Anti-Clinton author Robert Morrow (above) has been cooking up political conspiracy theories for years — many involving gay sex — and detailing them in emails to Texas journalists.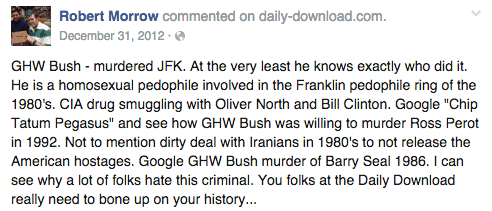 On Super Tuesday, Morrow was elected chairman of the Republican Party in Travis County, home to the state capital, beating out incumbent James Dickey.
Not surprisingly, the vice chair of the party immediately vowed to block Morrow from assuming the post, given his penchant for sexist, racist, anti-gay and otherwise just plain lewd posts on social media. Morrow's Facebook page, for example, features dozens of photos of scantily-clad, large-breasted women. In other words, he's pretty much Donald Trump on steroids.
From The Texas Tribune:
Morrow's election as Republican chair of the fifth-largest county in Texas left several members of the Travis County GOP, including vice chair Matt Mackowiak, apoplectic. Mackowiak, a Republican strategist, immediately announced over social media that he would do everything in his power to remove Morrow from office.
"We will explore every single option that exists, whether it be persuading him to resign, trying to force him to resign, constraining his power, removing his ability to spend money or resisting any attempt for him to access data or our social media account," Mackowiak told the Tribune. "I'm treating this as a coup and as a hostile takeover."
"Tell them they can go fuck themselves," Morrow told the Tribune.
More from The Austin Statesman:
As votes rolled in Tuesday, with Morrow ultimately beating out incumbent James Dickey with about 55 percent of the vote, the new leader of the Travis County Republican Party spent election night tweeting about "Rick Perry's rampaging bisexual adulteries" and how "much of the Bush family should be in jail."
Morrow, 51, is a self-employed investor and political activist who ran ads in 2011seeking evidence to support hisaccusation that former Gov. Rick Perry is gay. Morrow has published a book about the Clintons and is a self-professed expert on the JFK assassination. He owns about 400 books on the subject and believes that former President Lyndon B. Johnson had Kennedy killed, he said. He emails media outlets daily on these subjects and others. …
In an interview with the Statesman's Ken Herman in 2011, Morrow talked about his political research into allegations of criminal activity by Hillary Clinton and Perry's sexuality.
"I'm a truth seeker and a truth teller. Even if it's the ugly truth," he told Herman.
There's no word on whether Morrow believes President Barack Obama worked as a male prostitute in his 20s. But another conspiracist Texas Republican who espouses that theory, Mary Lou Bruner, was the top vote-getter in a state school board race on Tuesday, advancing to a runoff for the GOP nomination.
Check out a few of Morrow's tweets below.
https://twitter.com/RobMorroLiberty/status/704900771792429058
https://twitter.com/RobMorroLiberty/status/705084289323393024
https://twitter.com/RobMorroLiberty/status/704886824397766656
https://twitter.com/RobMorroLiberty/status/705078582255575040
https://twitter.com/RobMorroLiberty/status/704758958087536640
https://twitter.com/RobMorroLiberty/status/704653061793263617
https://twitter.com/RobMorroLiberty/status/444301412667645952