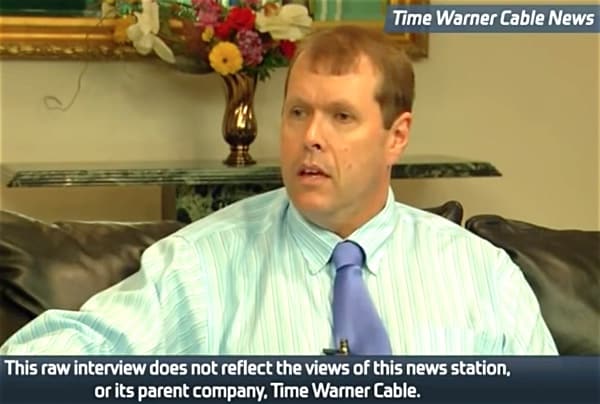 Last week, we told you how anti-Clinton author and conspiracy theorist Robert Morrow had been elected chairman of the local Republican Party in Austin.
We also shared with you some of Morrow's social media posts in which he's claimed that President George H.W. Bush is a "longtime homosexual pedophile," that former Secretary of State Hillary Clinton is "an angry bull dyke," and that former Texas. Gov. Rick Perry is "a rampaging bisexual adulterer."
https://twitter.com/RobMorroLiberty/status/707703581441269761?ref_src=twsrc%5Etfw
Now, Morrow has concocted a few new gay sex-related theories. For example, he says President George W. Bush and his senior adviser Karl Rove are both closeted homosexuals, pointing to the case of Jeff Gannon, the conservative columnist who covered the White House from 2003-05 and was later outed as a former gay escort.
"You need to Google a picture of George W. Bush kissing the bald head of Jeff Gannon, who's a bald-headed gay prostitute who was posing as a journalist in the White House press corps," Morrow told Time Warner Cable News. "It makes me wonder if Karl Rove got him that journalist's pass. It makes me wonder if Jeff Gannon was having sex with Karl Rove. Jeff Gannon was a gay prostitute who was known for being a top. Do you know what a top is, and a bottom? Jeff Gannon was a top, and he was running around the Bush White House like he was a stray cat."
https://twitter.com/RobMorroLiberty/status/707839040121208832?ref_src=twsrc%5Etfw
Morrow is also endorsing a version of the theory recently espoused by Texas state school board candidate Mary Lou Bruner, who believes President Barack Obama has "a soft spot for homosexuals" because he spent years working as a male prostitute to support a drug habit in his 20s.
"I think Barack Obama is a gay man who got married," Morrow told TWC News. "I believe, when he was a state senator, I totally believe … that he was having a blow job and smoking crack while he was being sucked by a gay prostitute."
Morrow is pledging to out anti-gay Republican hypocrites who are in fact closeted homosexuals. And while that may sound like a noble cause, we're beginning to question this guy's credibility. In fact, some have even suggested that if Morrow is going to out closeted Republicans, he might want to begin with himself:
@RobMorroLiberty Those who protest the most end up being the ones who themselves are gay. Remember Larry Craig? Open to an interview?

— Mike Rogers (@MichaelRogersDC) March 10, 2016
Watch Morrow's interview with Time Warner Cable News below.