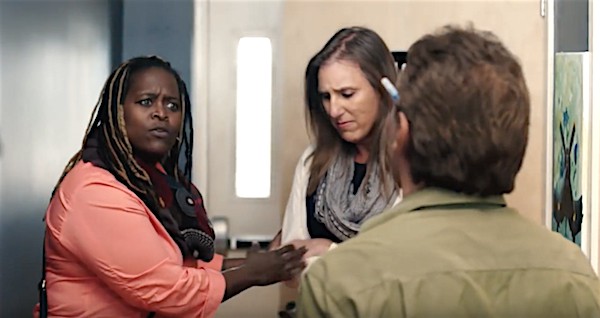 "Restaurant", a 60-second spot depicting the harm faced by transgender people in public restrooms, will air on FOX News channel next Thursday during the final night of the Republican National Convention in Cleveland. It will air again on MSNBC during the Democratic Convention.
The ad comes from Fairness USA, a partnership led by the Freedom for All Americans Education Fund, the Movement Advancement Project (which created it), the National Center for Transgender Equality, and the Equality Ohio Education Fund, with support from the Equality Federation Institute, the Human Rights Campaign Foundation, and the National Center for Lesbian Rights.
Our new TV ad depicts the challenges transgender people face in accessing public restrooms and features a transgender woman – someone who was born with a male body, but inside always knew she was female, and who transitioned to live life every day as the woman she had always known herself to be. It can be hard to understand what it means to be transgender, especially if you've never met a transgender person – and that's why we're proud to share this video as part of our efforts to help more people understand the lives of  transgender people.
The ad stars Alaina Kupec, a transgender woman from North Carolina, the NYT reports:
Ms. Kupec is eating with a group of friends and excuses herself to get up to use the restroom. But as she does, an employee at the restaurant intercepts her and insists that she use the men's restroom instead.
"I can't go in there," she mouths to the man, who appears unsympathetic until two other women arrive and escort her into the women's restroom. "When businesses can legally force me to use the men's room, it puts me at risk for harassment and violence," Ms. Kupec says. "Safety and privacy in bathrooms are important to all of us."
Currently that scenario would be legal in 32 states, said Ineke Mushovic, the executive director of the Movement Advancement Project, which is producing the ad along with the Freedom for All Americans Education Fund and the Equality Ohio Education Fund.
Said Jay Brown, HRC's Director of Communications.
"Creating this visibility on a national scale is crucial in our effort to bring equality, fairness and dignity to transgender people in every state. Anti-transgender extremists continue to use scare tactics and spread lies, and we have to fight them by putting a spotlight on how these laws hurt transgender people who just wish to live and work without fear of discrimination or violence. No matter what your political views are, we know that just meeting a transgender person or hearing their experience alters perceptions and builds understanding."
Watch: