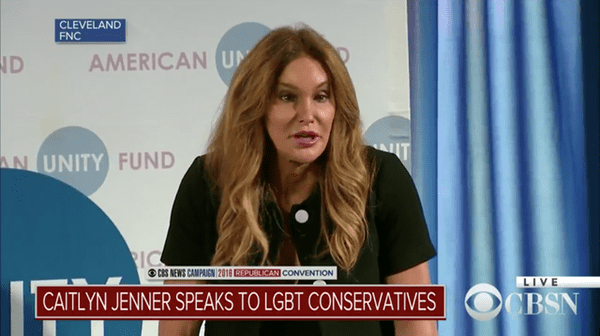 Caitlyn Jenner on Wednesday said it was easier for her to come out as transgender than to come out as a Republican.
Jenner made the remarks at the so-called "Big Tent" LGBT brunch held by the American Unity Fund.
.@Caitlyn_Jenner: "It was easy to come out as trans, it was harder to come out as a Republican." #RNCinCLE https://t.co/NGje2V6K8K

— This Week (@ThisWeekABC) July 20, 2016
Jenner also told the event, "Hopefully we can all make some positive changes if we all work together." Of transgender rights, Jenner added, "We're part of humanity…It's not like this issue just came up."
More on the brunch from the AP: 
The transgender activist and Olympic gold medalist is speaking at a breakfast at the Republican National Convention to promote LGBT inclusion in the GOP. She says Democrats do a better job on the issue.
Jenner is crediting President Barack Obama for taking positive steps for LGBT individuals. She received a smattering of applause from fellow Republicans for acknowledging his move to eliminate the ban on transgender people serving openly in the military.
Jenner says the issue of which bathrooms transgender people use has been used politically for many years. She says she hasn't had any problems.
You can watch Jenner's full comments, below.