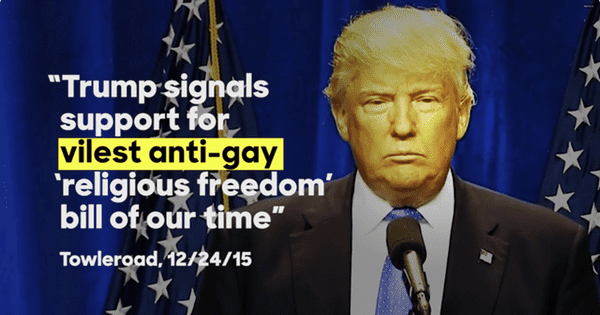 Since the Orlando massacre on Sunday, Donald Trump has been insisting that he would be a better advocate for the LGBT community–or as he sometimes says, "the gays"–than Hillary Clinton.
He first claimed he was a friend to the LGBT community on Monday. On Tuesday, he doubled down, thanking the LGBT community for support he didn't actually receive. Then Trump caused Twitter to erupt when he told supporters to "ask the gays." And today, Trump said, "LGBT is starting to like Trump very, very much."
Clinton, it seems, has had enough of Trump's phony support for the LGBT community.
In a new video posted on Twitter, Clinton goes after Trump for his despicable record on LGBT rights. Among other things, the video highlights Trump's opposition to gay marriage, his expressed desire to overturn Obergefell v. Hodges, and his support for the First Amendment Defense Act (FADA) which would allows businesses and invidiuals to discriminate against gay people under the guise of so-called "religious liberty."
Donald Trump says he's "the real friend" of the LGBT community.

Yeah, no.https://t.co/TWwZKC5ARS

— Hillary Clinton (@HillaryClinton) June 17, 2016
Clinton also had a quippy one word response to Donald Trump's insistence that he is the best ally for the LGBT community. Said Trump at a rally in Texas on Thursday, "You tell me: who is better for the gay community and who is better for women than Donald Trump." Clinton's response?
— Hillary Clinton (@HillaryClinton) June 17, 2016
Among the several tweets Clinton posted about LGBT rights on Friday were messages praising US Men's Soccer Team Captain Michael Bradley for wearing a rainbow armband at a recent match and a statement of her commitment to LGBT Americans.
You don't have to be LGBT to stand with the LGBT community. We all have a stake in equality. Thank you, Michael. https://t.co/EfEMVugWCp

— Hillary Clinton (@HillaryClinton) June 17, 2016
We can't stop fighting until every LGBT American can live life freely, openly, and without fear. https://t.co/9XaF4l4n21

— Hillary Clinton (@HillaryClinton) June 17, 2016