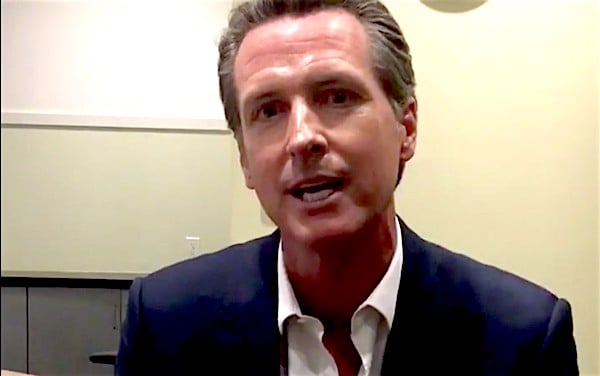 California Lieutenant Governor Gavin Newsom posted a searing Facebook video today attacking the Republican Party for including gay conversion therapy in its platform, and attacking Mike Pence for supporting it. Pence said in 2000 that he was in favor of sending money allocated to care for people with HIV/AIDS to organizations that provide conversion therapy.
Says Newsom in the video:
"I'm sorry to be a little animated, but the conversion therapy really disgusts me. It really offends me, and it should offend any right-minded person. People are born gay. They can't help who they love. These are God's children and to start talking about using shock therapy, to start talking about doing things to young people to change who they are, that's about as low as it gets and we can't stand for that."
Wrote Newsom on Facebook:
"We must get the word out, hope you will share this video. For years the GOP denied that LGBT Americans even existed. When they couldn't do that anymore, they did everything they could to deny them their rights. And now, by supporting conversion therapy in their platform, they have finally admitted what we have suspected all along, they just want them to disappear."
Watch:
Newsom also went off on the Trump campaign's use of Queen's "We Are The Champions" at last night's convention event:
It's important to note that tonight's RNC convention ended with a song, We Are the Champions, sung by a gay man, Freddie Mercury. Freddie Mercury died of AIDS in 1991. His music was played at a convention where the most anti-LGBT policy platform was adopted, just today. His music, which he famously labored over, which was intricate and complex, was played at a convention where Mike Pence, a man who has spent his political career actively looking for opportunities to pass laws that would give others the legal framework to discriminate against LGBT people, sat comfortably in a VIP box.
I'm not sure what Freddie Mercury would think of his music being played at the RNC convention, but I do know that if he weren't a famous rockstar, he would have probably been greeted by a wall, a really high wall, because he represented everything that Mike Pence and Donald Trump are scared of.