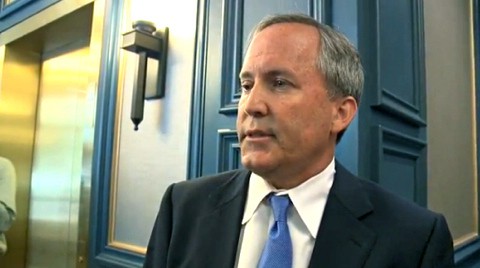 More than five months after Obergefell, Texas Attorney General Ken Paxton refuses to dismiss a case challenging a lesbian couple's marriage, even though one of the women suffers from ovarian cancer.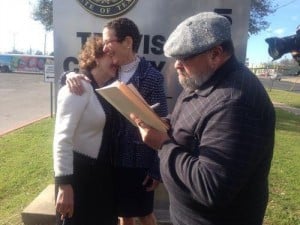 Paxton's office has continued to pursue a lawsuit seeking to void the marriage of Suzanne Bryant and Sarah Goodfriend (right), a couple of more than 30 years who obtained a marriage license from the Travis County Clerk's Office in February. Bryant and Goodfriend tied the knot after a state district judge declared Texas' marriage ban unconstitutional and ordered the clerk's office to issue the license, based partly on Goodfriend's ailing health.
After obtaining a stay of the district judge's ruling from the Texas Supreme Court, Paxton's office sought a decision voiding the marriage, a request that's still pending despite Obergefell.
The Texas Observer reports:
"Since that case is pending, our public filings speak for themselves," Paxton spokeswoman Cynthia Meyer wrote to the Observer last week in response to questions about why the AG's office hasn't dismissed the case after the Obergefell ruling.
Although it's seeking to void the couple's marriage, the AG's office maintains in court filings that the case is about procedural issues, not a challenge to constitutional rights. For example, the AG argues that Wahlberg should have notified Paxton's office before declaring the marriage ban unconstitutional, and that the couple failed to show "immediate and irreparable harm." …
In an e-mail to the Observer, Bryant said that she and her wife are currently "unable to focus our efforts on the Texas Supreme Court." She continued: "We are married and that is the end of the story. Period. We expect the Texas Supreme Court and the Texas AG to follow the law of the land as laid down by [the Supreme Court]. That is the beauty of our democracy with checks and balances."
It's not the first time Paxton has effectively ignored the high court's ruling in Obergefell. In August, he unsuccessfully sought to block a lesbian widow from inheriting her wife's estate. And in another case involving a plaintiff who'd been diagnosed with cancer, a federal district judge threatened to hold Paxton in contempt after the state refused to issue accurate birth and death certificates to same-sex couples.
Watch Bryant and Goodfriend's reaction after learning that the district judge had struck down the marriage ban below.