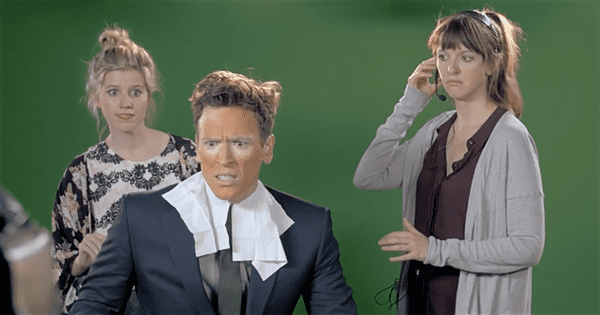 Actor and writer Chris Baker has just released the second season of his web series Baker Daily which takes a comedic look at the absurd yet high-stakes world of cable news.
Baker plays an entitled but well-meaning rookie who's trying his hardest to be a respectable news anchor, lest his father (who happens to own the network) fire him. But somehow, things always seem to go wrong.
Speaking exclusively with Towleroad, Baker said of the inspiration behind the show, "I am pretty much a news junky and loved the idea of becoming a newscaster viewers are supposed to trust, but who simply can't get it together. My character is in the same vein of Ron Burgundy and Ted Baxter but with cocaine and ball gags and lip syncs."
So think a raunchier, gayer, and overall updated version of Albert Brooks in Broadcast News.
"The funniest moments for me are when everything is going wrong but you can't let anyone know," Baker said of the series. "As soon as things blow up in my character's face, that's when he's live on the air. The LAST thing he can do is freak out."
Season 2 has just been released but you can catch up on season 1, via Funny or Die, below in addition to watching the brand new episodes out today.
Season 1
Season 2